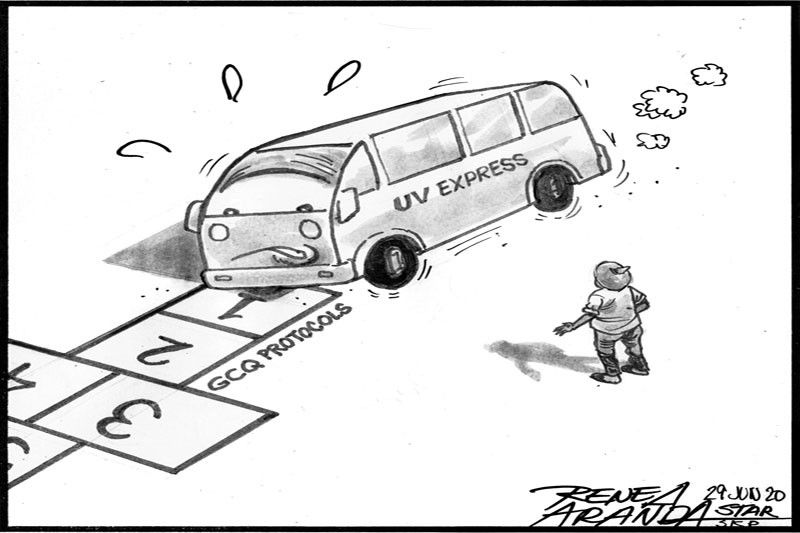 EDITORIAL - Back on the street
(The Philippine Star) - June 29, 2020 - 12:00am
With more businesses reopening and people going back to work, mass transportation services also need to be gradually ramped up. Today, after more than three months, UV Express units will return to 47 routes in Metro Manila and neighboring areas. The 980 units will be added to the trains, buses, taxis and transport network vehicle service units currently available to commuters.
The return of the UV Express will test health protocols imposed to curb the spread of the coronavirus disease 2019. Guidelines released by the government require a divider between the driver's compartment and passengers, payment of fare before boarding, and operation at limited capacity. All drivers need to be tested for COVID-19. Passengers must fill out forms for contact tracing. Everyone is required to wear masks.
EDSA and Commonwealth Avenue will remain off-limits to the UV Express, which will operate only from terminal to terminal, like point-to-point buses. The government is taking a public health risk in allowing the resumption of UV Express. Its operators and drivers must show more discipline than they used to before the pandemic in abiding by the rules.
Regular taxi operators had previously complained that UV Express units, which were supposed to load and unload passengers only at designated stops, were in fact doing so anywhere they pleased, and therefore operating like the regular taxis but with cheaper fares. UV Express vehicles have been shown on CCTV and social media posts loading and unloading passengers even where these are prohibited, such as along Roxas Boulevard.
If COVID cases spike and the rise is linked to the resumption of certain forms of mass transportation, the government is likely to stop the service again. If UV Express operators and drivers want to ensure that their livelihoods will not be halted again by the COVID pandemic, they should exert every effort to ensure that their vehicles do not become hotspots for coronavirus contagion.