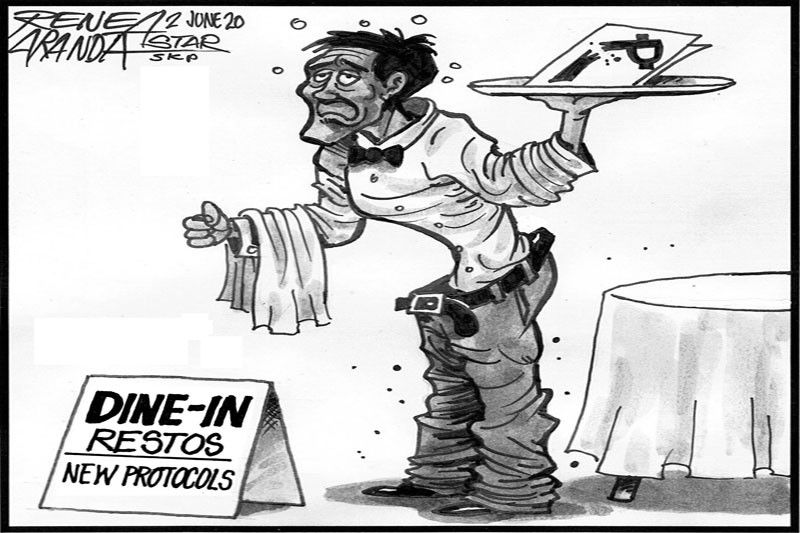 EDITORIAL - Preparing to dine in
(The Philippine Star) - June 2, 2020 - 12:00am
Guidelines were released over the weekend by the Department of Trade and Industry for dine-in service in restaurants and fast-food chains. The DTI guidelines, issued on the eve of Metro Manila's transition to general community quarantine, were approved yesterday by the Inter-Agency Task Force on Emerging Infection Diseases or IATF.
The only question is when dine-in services can resume. The IATF has approved the reopening of barbershops and salons by June 7, although facials, manicure-pedicure and massage services remain prohibited. Dining in involves less direct physical contact than hairdressing, but food-handling hygiene is a concern.
Industry players estimate that up to 490,000 Filipinos are employed in 16,300 dine-in restaurants nationwide. The players say they expect half of the establishments to permanently close shop as a result of pandemic restrictions, particularly physical distancing requirements that on average can cut the number of patrons by half at any given time. Such restrictions are seen to persist for months in the absence of a vaccine or cure for COVID-19.
Even fast-food chains that have survived the pandemic through take-outs, drive-through operations and deliveries are feeling the strain of reduced earnings due to the prohibition on dining in.
Now, with dine-in establishments in certain countries serving as models, the DTI has recommended the guidelines for reopening. These include the use of suitable dividers to promote physical distancing as well as the use of single-use menus per table or other ways of taking food orders without promoting the transmission of pathogens. Buffets and self-serve areas will remain banned.
Health protocols that have become part of the pandemic normal will be required: temperature checks for all, well-equipped sanitation stations for hand washing and disinfection, and possibly footbaths at entrances.
Reviving the dining industry could not only save jobs but also provide employment to the tens of thousands of overseas Filipino workers who have been forced to return home after losing their jobs amid the pandemic. For years, the food service industry has been one of the biggest employers of OFWs. In hotels, on cruise ships and commercial liners around the planet, there are Filipinos working in kitchens. If they lose their jobs and return home, they can be absorbed by the local food service industry. But first the industry must reopen and thrive again.