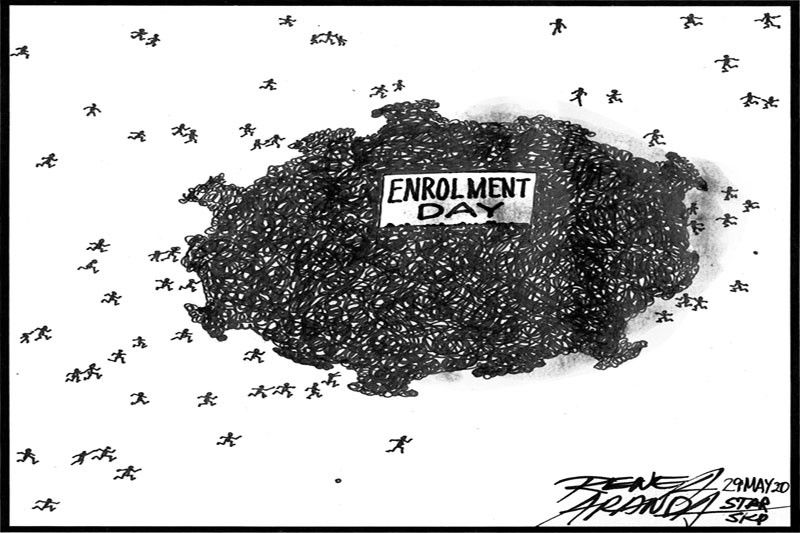 EDITORIAL - Ready for enrollment?
(The Philippine Star) - May 29, 2020 - 12:00am
No vaccine, no classes, according to President Duterte. His spokesman later clarified that the President was referring mainly to face-to-face classes when there is still no vaccine or cure for the coronavirus disease 2019. Alternative modes of education, however, can be pursued amid the COVID-19 pandemic, according to administration officials.
As of yesterday, the adjusted school opening date of Aug. 24 remained unchanged. And with the new school year starting, Malacañang has advised parents to enroll their children beginning June 1.
That's next Monday. If face-to-face classes should not be held in the absence of a COVID vaccine, can the country risk the enrollment of millions of students in the public school system beginning next week?
For academic year 2019-2020, over 22.8 million students across all levels enrolled in public schools, over 4.2 million in private schools, and 158,683 in state universities and colleges as well as local universities and colleges.
The COVID pandemic stopped classes in the final weeks of the school year. This could further complicate enrollment next week. In private schools, some students may not be able to continue their formal education because their parents have lost their means of livelihood. There is also lingering uncertainty over whether classes can open on Aug. 24.
Education officials have given assurance that blended modes of learning, through the combined utilization of the internet, television and radio as well as actual visits of teachers to the homes of students would allow classes to be carried out for school year 2020-2021.
With the government appearing determined to forge ahead, education officials must see to it that the upcoming enrollment would not endanger public health. Enrollment can be done online, but many parents are unfamiliar with the technology, and there are still too many areas without internet access. Face-to-face enrollment then becomes unavoidable. Is the Department of Education ready with the health protocols?
Teachers have expressed concern for their safety amid reports of numerous health frontliners being infected and even succumbing to COVID-19. The last thing the country needs at this point is to see school enrollment centers turning into breeding grounds for the killer coronavirus.