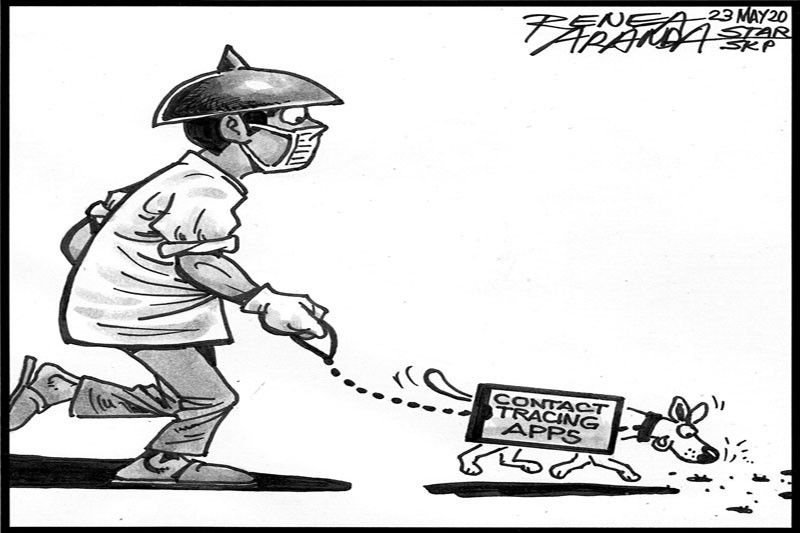 EDITORIAL - Tracing COVID cases
(The Philippine Star) - May 23, 2020 - 12:00am
As countries grapple with the coronavirus disease 2019 contagion, a digital innovation is increasingly being adopted for contact tracing of COVID-19 cases. South Korea and Taiwan were among the first to use digital apps to detect COVID patients and trace the individuals they have come in contact with even before the confirmed cases began manifesting symptoms.
Now the Philippines is reportedly seeking access to a similar Exposure Notification technology jointly developed by tech giants Apple and Google. To be incorporated into the StaySafe.ph project developed by Multisys Technologies Corp., the app is meant to complement traditional contact tracing conducted by people. The government has admitted that it needs more personnel to carry out actual COVID contact tracing.
Concerns have been raised about privacy breaches and the vulnerability to hacking of tracing apps that use Bluetooth and GPS. But the companies behind the Exposure Notification project say such concerns are being addressed in the new system, which will not collect or use location from the device, and will allow users to decide whether or not to opt in to virus exposure notifications.
Versions of the app are being developed for both iPhones and Androids. An obvious problem in the Philippines is that many people still lack even the most rudimentary mobile phones, and cyber connectivity is not universal or reliable, unlike in high-tech Taiwan and South Korea.
Still, anything that will boost contact tracing capability is a welcome development in this country. Apart from keeping track of local virus transmissions, special focus is needed on overseas Filipino workers who are returning in droves from abroad and chafing against their required 14-day quarantine on ships and other special facilities. The government also needs to keep track of foreigners, particularly Chinese who are turning to their own health facilities for dealing with the coronavirus.
From the start of the pandemic, a debate has raged on whether COVID patients should be identified, to facilitate contact tracing and alert people against possible infection. The right to privacy and the need to protect potential or confirmed cases from discrimination or harassment have prevailed. Using the notification app could be a compromise, even as the government recruits more people to conduct traditional contact tracing.