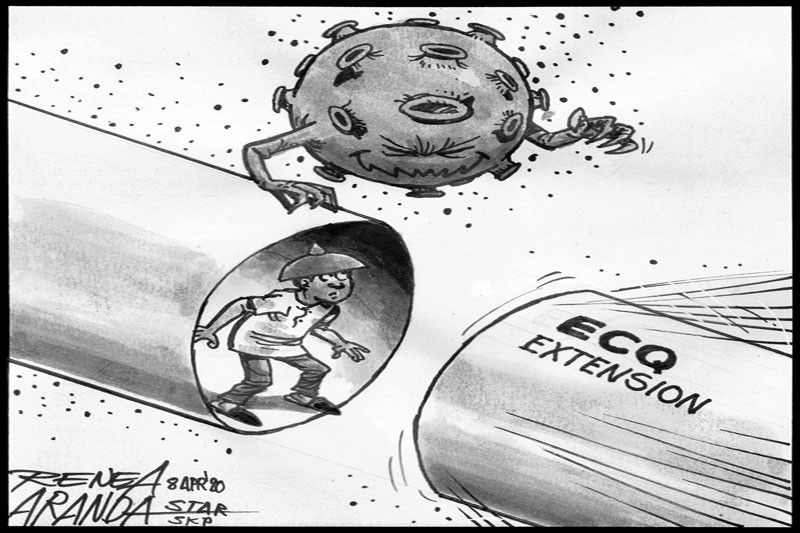 EDITORIAL - Two more weeks
(The Philippine Star) - April 8, 2020 - 12:00am
Into the fourth week of the enhanced community quarantine, the economy is in critical condition. Metro Manila accounts for the bulk of economic activity in the country, and the quarantine – with several areas mainly in depressed communities under complete lockdown – has brought most business operations to a standstill.
Unhealthy people, unfortunately, are unable to work and keep the economy going. With protecting public health the priority, the government has decided to extend for another two weeks the Luzon-wide enhanced community quarantine, until the end of the month.
The goal is to allow the country to ramp up testing for the coronavirus disease 2019. This can result in a more accurate assessment of whether quarantine measures are working to flatten the curve or slow the COVID-19 infection rate, particularly in Metro Manila, the epicenter of the contagion in the country. The additional period will also allow for a smoother transition to a modified quarantine, as the government moves to ease restrictions and gradually restart economic activities.
By now, most people realize that the greater the adherence to the quarantine measures imposed by the government, the quicker normalcy can be restored to the affected areas. In the absence of a vaccine or cure for COVID-19, staying at home remains a good way of keeping out infection. For unavoidable trips outside the house, to buy necessities or avail oneself of essential services such as banking, wearing a face mask can prevent the spread of infectious pathogens. Physical distancing of one to two meters or up to six feet must be observed.
At the same time, however, a prolonged quarantine means more loss of income for millions. The government must be prepared to provide some form of assistance to those who are reeling from the month-long quarantine, now compounded by another two weeks. The poorest of the poor aren't the only ones suffering. Micro and small enterprises, which provide jobs to many people, are among the most vulnerable during this economic slowdown.
Many enterprises are at the end of their meager savings; they are about to surrender and shut down for good. Even the biggest businesses are seeking bailouts from the government. Unemployment is certain to rise and revenue collection sure to fall. Everyone knows that another two weeks of quarantine is going to be tough. The government cannot do it alone; as the nation pursues healing from COVID-19, everyone must work together to ease the pain.