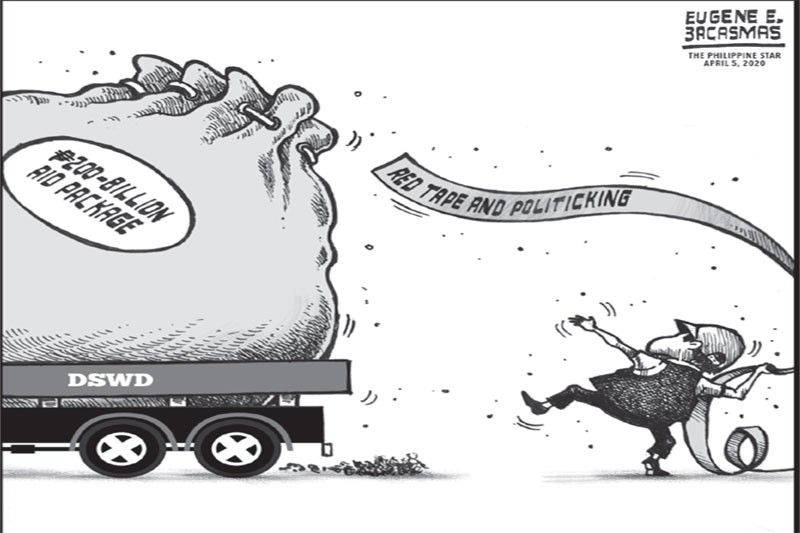 EDITORIAL - Efficient distribution
(The Philippine Star) - April 5, 2020 - 12:00am
A sigh of relief must be spreading across several communities after the government began distributing on Friday in Metro Manila and six other regions the cash assistance under the Social Amelioration Program for those hardest hit by measures to contain the coronavirus disease 2019 pandemic.
Under the program, the P200-billion aid package will be distributed to low-income families and displaced workers, in amounts ranging from P5,000 to P8,000 depending on the region, every month for two months.
As the program kicked off on Friday, the chief implementer himself of the government's response to the pandemic, peace adviser Carlito Galvez, handed out some of the envelopes containing cash to residents of Parañaque.
The personal distribution was likely ceremonial, to herald the rollout of the massive aid program. In the coming days, however, the cash assistance will have to be distributed as swiftly as possible to millions of people who are crying out for help after losing their livelihoods and, in several areas, being kept under total lockdown in their homes. The need for speed will have to be balanced with efficiency and fairness in the selection of beneficiaries.
Under the conditional cash transfer and unconditional cash assistance programs handled mainly by the Department of Social Welfare and Development, the government already has a database of indigent families with the most urgent need for help during the enhanced community quarantine. Going by the rollout, however, barangay officials and local government units will still have a say in the identification of beneficiaries.
The Anti-Red Tape Authority or ARTA is reminding agencies to ensure that the aid program will not be hampered by red tape. Earlier in the week, President Duterte also said he did not want the aid program to be used by anyone for political patronage. This is easier said than done in this country, but perhaps with the President's special powers in a state of national health emergency, agencies involved in the distribution will do away with red tape and politicking.
ARTA officials said it may also be a good opportunity for the DSWD to consider moving online, so that its aid programs can be paperless and, where possible, even cashless. Under the conditional cash transfer, money is already collected by beneficiaries from ATMs. Apart from cutting red tape, eliminating the need for direct cash handouts is also the best way to stop using any state-funded aid program for political patronage.