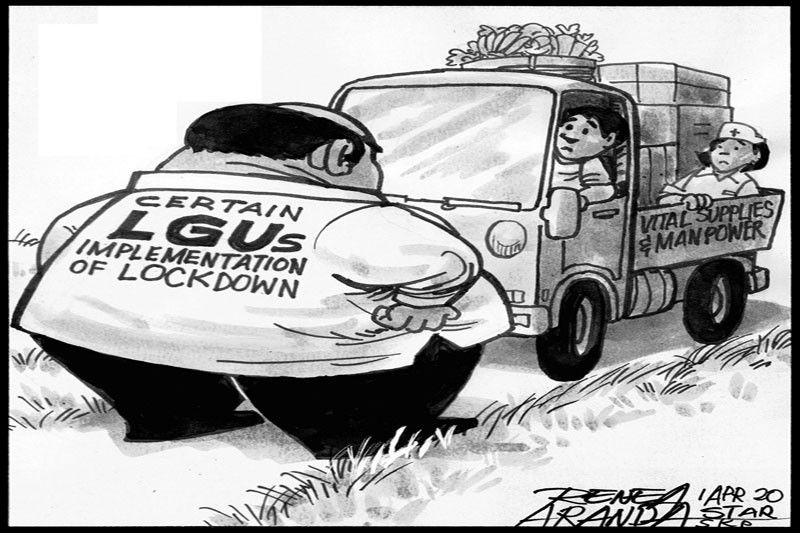 (The Philippine Star) - April 1, 2020 - 12:00am
Those who have lost their livelihoods as a result of the month-long enhanced community quarantine and, in some areas, total lockdowns will surely welcome the P200-billion emergency aid package announced by President Duterte on Monday night.
The assistance will be distributed to the neediest households and affected workers over two months as the country continues to grapple with a pandemic for which scientists are still rushing to find a vaccine or a cure. Midway through the community quarantine, livelihoods have become so disrupted that there are reports of individuals contemplating suicide, with at least one person killing himself over coronavirus woes. A resident of a community under total lockdown said in an interview that she and her family members were increasingly suffering from hunger, and were simply drinking water to assuage it.
With the massive amount involved, there is the danger that unscrupulous public officials will find a way of misappropriating the funds and other forms of assistance. Local government executives as well as barangay officials will be in charge of supervising the assistance program. President Duterte has warned them that he would not hesitate to lock up anyone found to have tainted the aid program with abuses and corruption.
Already, there have been complaints against certain local government and barangay officials imposing unreasonable restrictions even on food deliveries and other essential commodities, despite repeated reminders from the Inter-Agency Task Force on the Management of Emerging Infectious Diseases that all cargo movement must be "unhampered." Now into the third week of the quarantine, the agriculture secretary again had to issue a reminder yesterday that food deliveries in particular must not be stopped at checkpoints. The reminder was issued amid reports that vegetables and other agricultural products could no longer reach their destinations including in Metro Manila because of checkpoint restrictions. The government may need to impose sanctions on those who defy the task force guidelines.
To facilitate the proper utilization of the P200 billion, the government must disseminate information on how the public can report abusive or crooked officials without fear of reprisal. Apart from seeing the end of this crisis, people will also want to see punishment imposed on those who abuse power or misuse public funds.