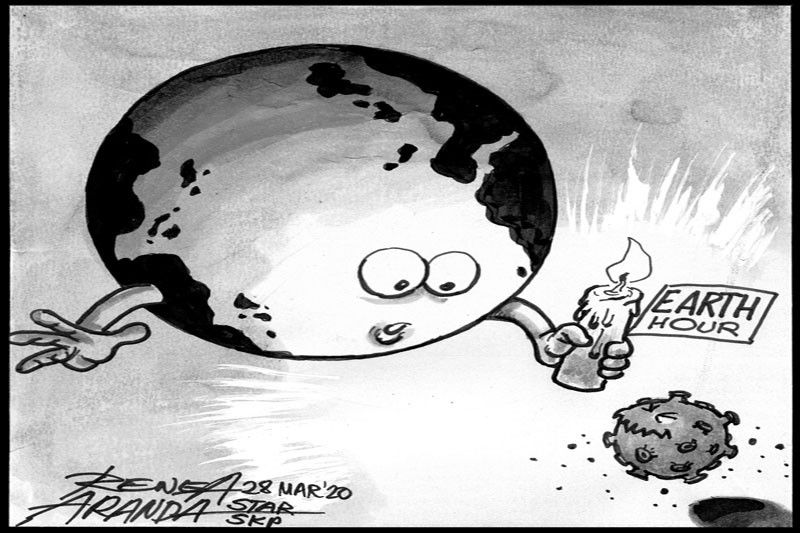 EDITORIAL- Lights out for the Earth
(The Philippine Star) - March 28, 2020 - 12:00am
It's difficult to look for any silver lining in the coronavirus disease 2019 pandemic, which continues to claim lives around the planet. Environmental advocates, however, cite an obvious consequence of suspending much of transport operations by land, air and sea to prevent the further spread of COVID-19: air quality has become much cleaner.
This is the only piece of positive news as the international community proceeds with the 13th annual observance of Earth Hour. Tonight starting at 8:30, participants in the Philippines will switch off non-essential lights for an hour, in a symbolic commitment to confront climate change and protect the environment.
Because of the extraordinary circumstances arising from the COVID-19 pandemic, activities to mark the event will be conducted digitally, as people stay at home and observe physical distancing. The virtual observance is a show of solidarity with those affected by the disease.
COVID-19, which has killed over 24,365 people and infected over 542,000 others in 199 countries and territories as of yesterday afternoon, need not kill Earth Hour as well. In the Philippines, local curfews start at 8 p.m., imposed by many local governments in Metro Manila and other parts of Luzon, which is under enhanced community quarantine. People heeding calls to stay home can switch off lights for an hour.
This year's theme for Earth Hour is "climate action" and sustainable development. The event continues to inspire individuals, organizations and businesses around the globe to commit to measures that will reduce global warming. The Philippines, with its extensive coastline, is one of the countries most vulnerable to the impact of climate change. This year's Earth Hour should prod world leaders to approve the proposed New Deal for Nature & People, which seeks to restore nature by 2030. When a vaccine is finally in use against COVID-19, the existential threat posed by climate change will still be there, calling for a sustained battle.