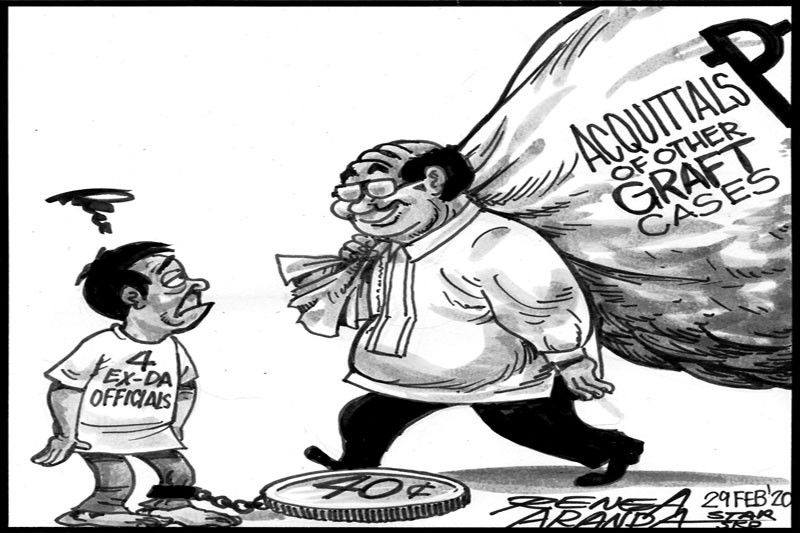 EDITORIAL - Catching the small fry
(The Philippine Star) - February 29, 2020 - 12:00am
Regardless of the amount involved, corruption must be punished. Petty thievery can lead to bigger offenses, and allowing anyone to get away with the crime breeds impunity.
So it's welcome news that the Sandiganbayan has convicted four former officials of the Department of Agriculture for awarding a P2.5-million water supply contract in Davao City that was 40 centavos above the earmarked budget. The former regional DA officials were found guilty of graft and sentenced to six to eight years in prison. They were also disqualified from ever holding public office.
It's not the first graft conviction involving small amounts. While it's good to see anti-graft laws being applied even on the small fry, however, people also want to see the big fish caught in the anti-corruption net.
Former agriculture undersecretary Jocelyn Bolante, whom the Sandiganbayan found to be the "central, key player" in the diversion of P728 million in DA fertilizer funds during the 2004 presidential campaign of Gloria Macapagal Arroyo, was cleared by the anti-graft court.
What about the lawmakers who misused the congressional pork barrel? Sen. Ramon Revilla Jr. was cleared of plunder and his staff Richard Cambe is the one who is serving a life term behind bars. The Sandiganbayan has yet to clarify whether Revilla should return P124.5 million to the government.
The biggest fish, of course, is the Marcos clan. With billions in assets of the Marcoses and their cronies declared as ill-gotten wealth and forfeited in favor of the government, it's a travesty of justice that no one has been sent to prison for the illegal acquisition of the assets.
Only recently, as the nation prepared to mark the 34th anniversary of the popular revolt that drove the Marcoses from power, the Sandiganbayan handed yet another victory to the clan and the cronies, upholding the dismissal of a P102-billion forfeiture case.
The lesson here is that in this country, if you're going to steal from the people, you better steal big. The bigger the loot, the better your chances of getting the top lawyers and accountants, and the better your capability to get the best justice that money can buy.
If you cheat the government of 40 centavos, you go to prison. If you steal P102 billion, you become untouchable.