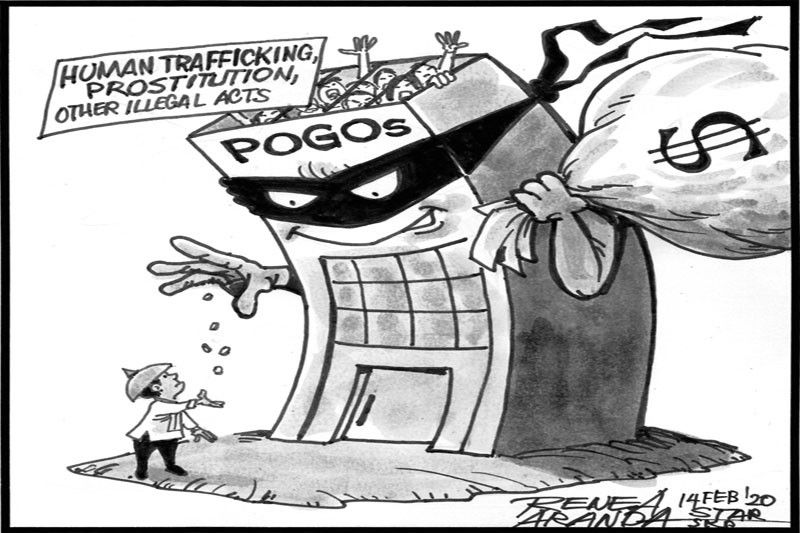 EDITORIAL - Abetting human trafficking
(The Philippine Star) - February 14, 2020 - 12:00am
They owe the government an estimated P50 billion in taxes, and they are engendering crimes including human trafficking, prostitution, kidnapping for ransom and drug trafficking. Several senators have expressed concern over Philippine offshore gaming operators and their service providers, while the country's chief economic planner has said he is "not excited" about the POGO industry.
The latest controversy over POGO operations was raised at a Senate hearing the other day. A Taiwanese woman testified that she was subjected to threats and physical abuse after being duped into working for a POGO company in the Philippines. The 23-year-old said she was promised a job as an administrative assistant in an advertising agency.
Chinese-Filipino anti-crime crusader Teresita Ang-See of the Movement for the Restoration of Peace and Order, who was present during the testimony of the Taiwanese, said POGOs were abetting human trafficking. In an earlier Senate hearing, it was also revealed that even Filipino women have ended up in prostitution dens catering to POGO workers mostly from the Chinese mainland.
The Chinese government has been urging the Duterte administration to shut down the POGOs, pointing out that all forms of gambling including online betting are prohibited for Chinese citizens whether in their own country or overseas. Cambodia, which has close ties with China, has shut down its offshore gaming operations. The Philippines, on the other hand, has refused to follow suit, saying the country needs the earnings from POGOs including the economic activities that support their operations such as real estate and retail.
The nature of offshore gaming, however, makes it difficult to tax properly. Crimes and other social problems connected to POGOs have led to calls for either their shutdown or their confinement in self-contained hubs, as reportedly planned by the Philippine Amusement and Gaming Corp. The latest revelations at the Senate should prompt a review of the policy on POGOs.