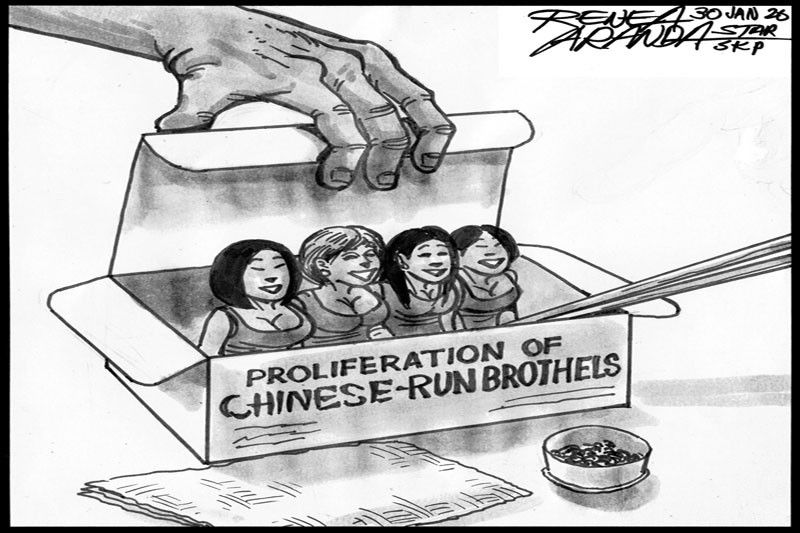 EDITORIAL- 'Fast food' for POGOs
(The Philippine Star) - January 30, 2020 - 12:00am
As part of measures to prevent the spread of the novel coronavirus, the country is limiting the entry of travelers from China. Authorities are also suspending the issuance of tourist visas on arrival to Chinese from the mainland – the usual entry mode of workers in Philippine offshore gaming operator companies and the POGO service providers.
Apart from worries over the entry of the 2019-nCoV, however, concerns have also been raised over the rising number of prostitution rings catering to Chinese employees in the POGO industry. The women are reportedly referred to as "new tea" and "fast food."
Almost every week, it seems, there are police raids on prostitution dens where both the sex workers and the principal clients are Chinese nationals. The sex dens are typically run by Chinese citizens with at least one Filipino partner.
Women's groups have expressed concern about the reports. The concerns have intensified as even Filipino women are now being recruited into the POGO-related flesh trade. At a Senate hearing this week, details of the human trafficking were provided by some of the Filipino women roped into the flesh trade. Unless nipped in the bud, this sex trafficking can only grow as exponentially as POGO operations.
The government has encouraged the proliferation of POGOs and their service providers, even brushing aside protests from Beijing, ostensibly because of the billions in taxes expected. The tax effort, however, remains a work in progress, and the sex traffickers catering to POGO workers undoubtedly aren't sharing any earnings with the Philippine government.
Various quarters have pointed out the social costs of the POGO industry, including the involvement of the employees in crimes such as kidnapping, physical injury and alarm and scandal. The growing problem of prostitution indicates the ease by which players in this industry go around Philippine laws. It should spur a review of the government's policy on POGOs.