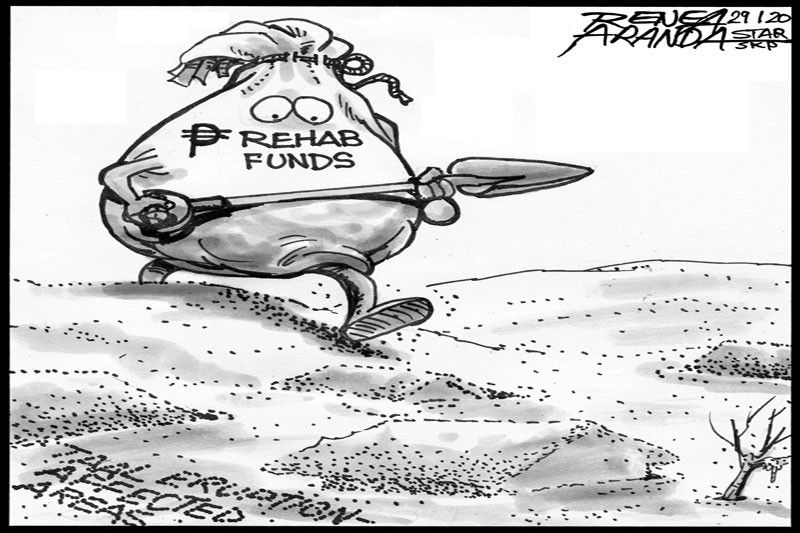 EDITORIAL - Rehab after Taal's fury
(The Philippine Star) - January 29, 2020 - 12:00am
The alert remains worrisome at level 3, but there are encouraging indications that Taal Volcano has done its worst for its latest episode of activity. Attention is now shifting from emergency assistance to the rehabilitation of the areas devastated by ashfall, earthquakes and road fissuring.
The damage to property and livelihoods is considerable, especially on Volcano Island itself and in the lakeshore communities. Houses and other buildings have collapsed from the quakes and the weight of the ash on their roofs. Drains are clogged with volcanic materials that are hardening like cement. Roads and bridges have been damaged and need to be checked for structural integrity amid fissures that have formed. Water and electricity services have yet to be fully restored.
Tourism, agriculture and fishing are the principal sources of livelihood in many parts of the danger zone. The phreatic explosion on Jan. 12 blanketed much of the 14-kilometer-radius danger zone as well as parts of Tagaytay City and other areas of Cavite with ash that killed crops, domestic animals and wildlife.
Schools are reopening after the lockdown was lifted in many areas and evacuees are now allowed to return to their homes. Life won't be the same, however, in the affected areas, especially on Volcano Island, which the government is planning to close off permanently to human settlement.
Rebuilding from the ruins of Taal's fury is approaching the scale of the reconstruction of Marawi City. In the case of Taal, rebuilding must incorporate resilience amid the continuing threat of more volcanic eruptions. Scientists have not yet withdrawn their warning about the possibility of a powerful base surge or lateral eruption of Taal.
"Building back better" was a mantra after Super Typhoon Yolanda obliterated large swaths of Eastern Visayas. The same mantra can be adopted as devastated communities rise from the ashes of Taal's fury.