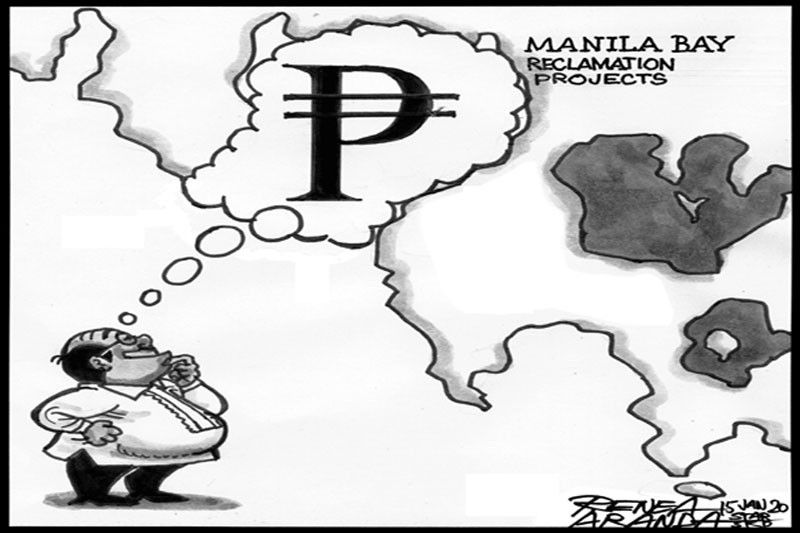 EDITORIAL - 'Not in my time'
(The Philippine Star) - January 15, 2020 - 12:00am
Environmental advocates should be happy that President Duterte is putting his foot down on planned massive reclamation projects in Manila Bay. From Navotas City to the province of Cavite, there are 25 reclamation projects covering 10,000 hectares of the bay that are under consideration.
In December last year, the Philippine Reclamation Authority said four of the projects have been given notices to proceed, but would have to undergo value engineering approval before actual reclamation starts.
Before this happens, the President should make good on his pronouncement that "I am not ready to grant it… not in my time, as long as there is no guarantee that the environment will be protected and the health of the people will be safeguarded."
Protecting the environment is unlikely in any project that entails reclaiming large portions of the country's busiest bay. Many of the proposed reclamation projects are being pushed by local government units. The Duterte administration should remind these LGUs that they must give priority to the President's instruction to clean up and rehabilitate Manila Bay.
Instead of reclamation, a good model is the creation of a mangrove forest and eco-park in the coastal area of Las Piñas. The 175-hectare Las Piñas-Parañaque Critical Habitat and Ecotourism Area has been declared a protected wetland of international importance, covered by the Ramsar Convention of the United Nations Educational, Scientific and Cultural Organization.
This is the only protected wetland in congested Metro Manila. The mangrove forest serves as a sanctuary and breeding ground for birds and aquatic creatures, and plays a significant role in flood control. Trees serve as the lungs in mega cities. The coastal communities around the bay need more of such mangrove forests instead of a further expansion of the concrete jungle, with all the pollution engendered by urban centers.
In recent years, the western part of Metro Manila has been hit by destructive storm surges. Experts have warned that global warming will worsen the risks faced by coastal areas that have been sinking steadily even before climate change became a buzz phrase. Manila Bay is the only bay enjoyed by people in the heavily congested National Capital Region. It should be preserved and rehabilitated for the enjoyment of the majority instead of being awarded for commercial purposes to a handful of private interests.