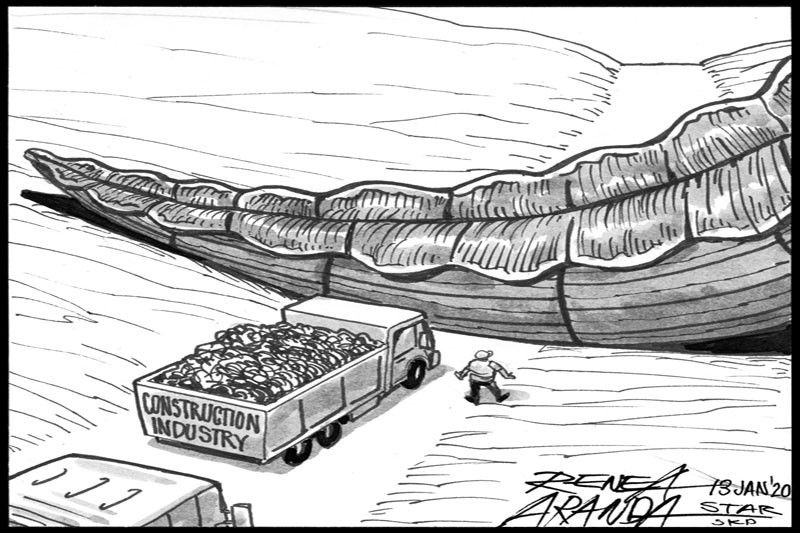 EDITORIAL - Corruption costs
(The Philippine Star) - January 13, 2020 - 12:00am
In the totem pole of priorities of the Duterte administration, the campaign against corruption is supposed to be right up there with the war against illegal drugs. Midway through his term, however, President Duterte has often lamented how deeply entrenched corruption has become in Philippine society.
A recent report gives an indication of the extent of the problem. At last week's congress of the construction industry, an official of the economic think tank and advocacy group REID or Research, Education and Institutional Development Foundation disclosed that corruption and delays eat up from 15 to 35 percent of the budget per project of construction companies. The assessment was based on interviews with industry players.
To offset such costs, some companies cut expenses on raw materials and labor, according to the REID Foundation. The quality of the services and products delivered will likely suffer from such cost-cutting. The cost of corruption has been blamed for substandard roads in the country that disintegrate in a downpour and require frequent and costly repairs at taxpayer expense.
Contractors are pinning their hopes for reforms on the effective implementation of laws promoting ease of doing business. Since assuming power, President Duterte has been telling government agencies to cut red tape, aware that every delay and redundancy in the processing of transactions offers an opportunity for graft.
Republic Act 11032, the Ease of Doing Business and Efficient Government Service Delivery Act, was passed in 2018. It requires government offices to complete action on simple transactions within three days, for complex ones within seven days, and for highly technical ones, 20 days.
Officials, however, have said that fine-tuning laws and procedures to promote compliance with the law is a work in progress. In the construction industry, these include procedures for bidding, procurement and the selection of qualified contractors.
Such reforms are critical particularly for the government's Build, Build, Build infrastructure program. This ambitious program needs speed and continuity, both of which can be compromised by corruption. Ultimately, it is the public that suffers the costs.