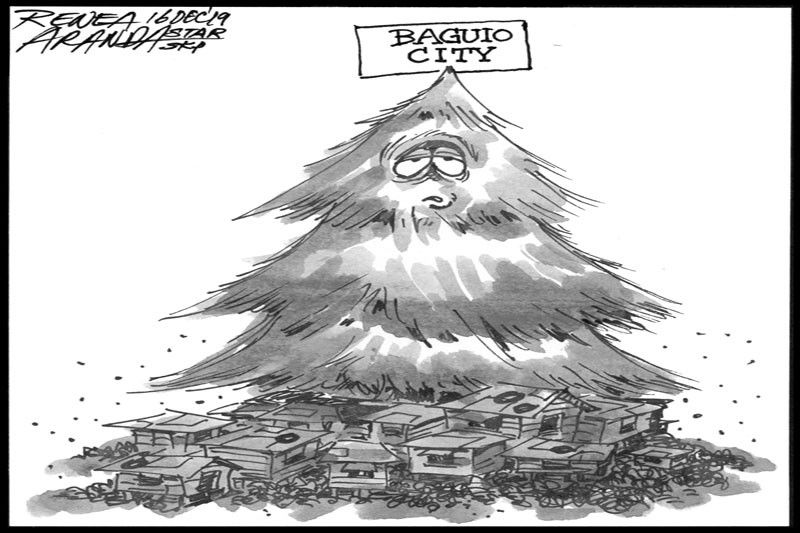 EDITORIAL - Reviving Baguio
(The Philippine Star) - December 16, 2019 - 12:00am
Unlike Boracay, which was closed to tourists for several months, people can continue visiting Baguio City as it undergoes rehabilitation. The city government has said the restoration of the city as the country's Summer Capital will be gradual.
Baguio has become one of the most congested cities in the country, and it is no island like Boracay, so it will be next to impossible in the first place to close it off to visitors. Its rehabilitation will also be more challenging.
For starters, Mayor Benjamin Magalong has reportedly ordered a moratorium on the cutting of trees and new building construction. Baguio, long dubbed the City of Pines, has lost most of its pine trees, with its slopes looking like the favelas or shantytowns of Brazil. Water and sewerage lines will be rehabilitated with funding assistance from the national government.
Anyone who has been dismayed by the current state of the city will be glad to know that Burnham Park is being revived instead of being turned into a parking lot. Plans are also being drawn up to improve the public market. New developments are being eyed outside the city proper to accommodate those who will have to move out of the danger zones on the city's slopes. Those slopes used to be covered with pine trees.
Considering the number of people to be affected, these plans are best realized with full cooperation from the public. The national government has committed support for the rehabilitation effort. Baguio now smells like EDSA on a Friday payday, and several of its landmarks have been ruined by urban blight.
This rehabilitation should provide a long-overdue breathing spell for the congested city. Baguio is the first city in the Philippines to be included in the global Creative Cities Network of the United Nations Educational, Scientific and Cultural Organization. The rehabilitation should enhance this recognition. It should pave the way for sustainable, long-term benefits for the city, its tourism industry and its people.