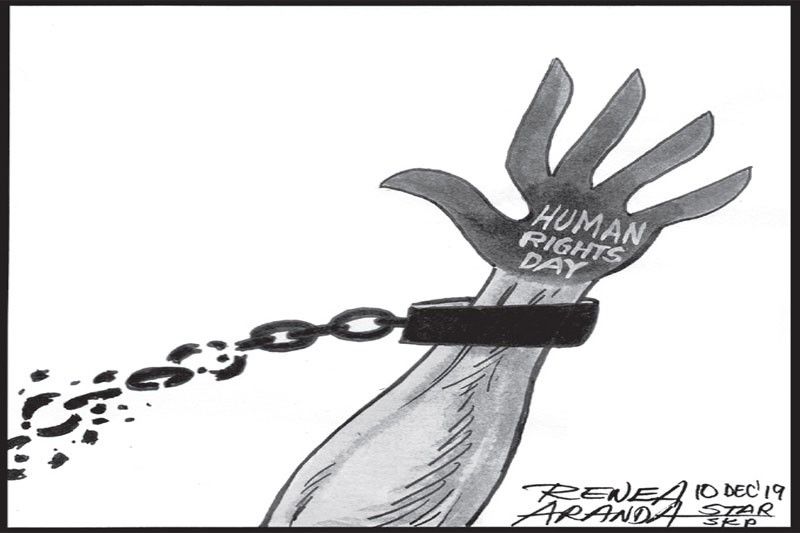 EDITORIAL - Promoting a human rights culture
none (The Philippine Star) - December 10, 2019 - 12:00am
There was one noteworthy detail during the 19-day stint of Vice President Leni Robredo as anti-drug czar last month: as confirmed by the Philippine National Police, there was not a single case of death resulting from "nanlaban" or the suspect resisting arrest anywhere in the country.
Officials of the PNP and Philippine Drug Enforcement Agency have stressed that nanlaban deaths have in fact been abating for some time now, as anti-drug units shift their focus from street pushers to high-value traffickers.
Such killings by police have again been reported in recent days, but the cases are dramatically lower. This should be a piece of good news as the country joins the international community in observing World Human Rights Day today.
The special day is the culmination of the yearlong commemoration of the 70th anniversary of the day in 1948 when the United Nations General Assembly adopted the Universal Declaration of Human Rights. The declaration was proclaimed by the assembly as the "common standard of achievement for all peoples and all nations" – with everyone enjoying inalienable rights regardless of race, sex, color, religion, language, political or other opinion, national or social origin, property, birth or other status.
For 2019, the theme of this special day is "The Year of Indigenous Languages: Promoting and Deepening a Human Rights Culture." In the Philippines, this takes the form not only of preserving the many indigenous languages, but also promoting the welfare of indigenous communities. A number of these communities face challenging circumstances arising from development programs and armed conflict.
Although a democracy, the Philippines is a focus of concern among global rights advocates. Last year, New York-based Human Rights Watch in its country report declared that there is a "human rights crisis" in the Philippines – due mostly to the violent war on drugs, the arrest or criminal indictment of government critics and killings of journalists.
President Duterte has often argued that his principal concern is the human rights of crime victims and the protection of law-abiding people. Like several other Asian leaders, he also stresses the importance of economic rights – freedom from poverty, which he says is a focus of his administration.
Those in charge of his most controversial campaign appear to be heeding concerns raised by human rights groups. There is still more to be done, however, as the country pursues the principles embodied in the Universal Declaration of Human Rights.