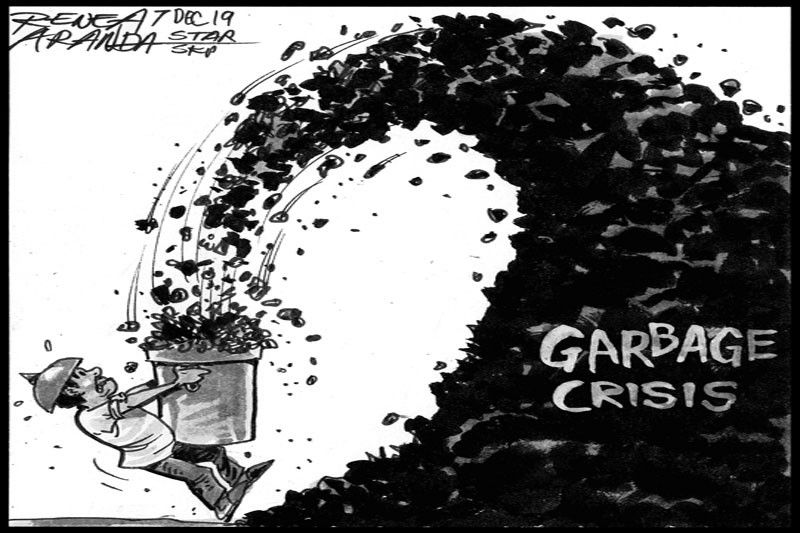 EDITORIAL- Garbage crisis
(The Philippine Star) - December 7, 2019 - 12:00am
Around Manila Bay, the government is preparing guidelines for waste-to-energy projects for municipal solid waste. Measures are also being readied to improve regulation of single-use plastics. Such efforts are being ramped up as the Department of Environment and Natural Resources warns that Metro Manila is facing a "garbage crisis."
The DENR aired the warning near the end of a year that started with President Duterte ordering the cleanup of Manila Bay. While the DENR sees only 80 percent completion of the task in two years, even this target is challenging.
More than plastic pollution, the culprit in this crisis is weak waste management. Manufacturers have pointed out that single-use plastics, which are non-biodegradable but can be recycled, are still needed for food safety and proper food preservation. The problem is improper garbage disposal – not just of plastic items but also of other types of materials such as glass, metals, paper, fabrics, pathological and industrial waste.
With 190 kilometers of coastline in Manila Bay and 17 major river systems linked to it, the bay remains heavily polluted despite regular cleanups, according to the DENR. Metro Manila alone produces 9.3 million kilograms of solid waste every day, of which only about 85 percent is collected. The rest ends up in waterways, most of which washes into the bay.
Among the biggest culprits are informal settlers and thousands of business establishments, the DENR said. The businesses can be regulated and fined for pollution. The bigger challenge is dealing with solid waste from informal settlements, where many households lack sewerage connections and sanitation facilities and where garbage collection service is spotty. To improve garbage management in these areas, local governments can work with the private sector to offer money-for-trash or pera sa basura schemes, to encourage recycling and garbage segregation.
People generally dislike living in a filthy environment. With the right waste management programs and the provision of the necessary facilities, people can be encouraged to practice proper garbage disposal. Combined with other measures implemented by the government, it's possible to end this crisis.