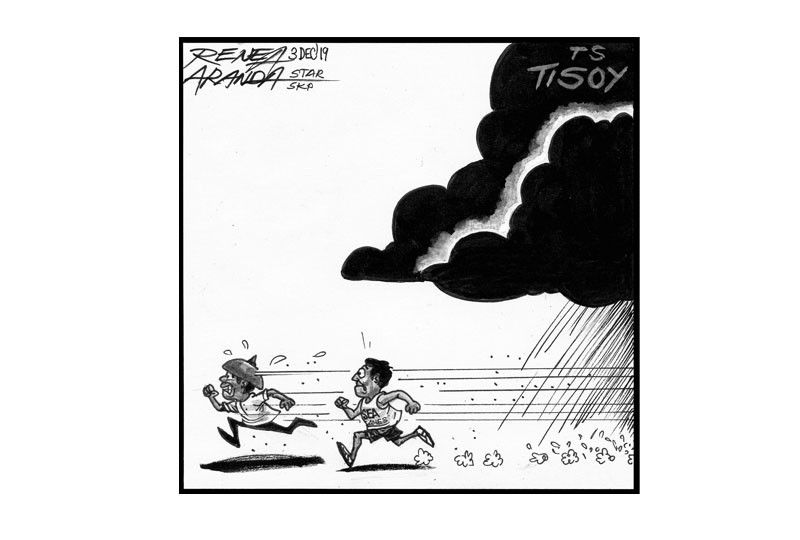 EDITORIAL - Bracing for Tisoy
(The Philippine Star) - December 3, 2019 - 12:00am
It's not going to be another Super Typhoon Yolanda, according to weather forecasters. People, however, still remember how much destruction was unleashed by Typhoons Reming on Nov. 30 to Dec. 1, 2006 and Glenda in July 2014. At least 1,399 people died when Reming pummeled the Bicol region; Glenda left at least 94 dead and six missing across Luzon including Metro Manila. Billions of pesos worth of infrastructure, property and crops were destroyed.
Weather experts have given sufficient warning: incoming Typhoon Tisoy is barreling across the Pacific Ocean with the strength of Reming and Glenda. While tropical cyclones can dissipate as they make landfall, they can also intensify into super typhoons.
The weather alerts on Tisoy come with an additional warning: the typhoon, which made landfall in Bicol last night, is headed directly toward Southern Tagalog, Metro Manila and Central Luzon – where all the sporting events in the 30th Southeast Asian Games are being held.
The SEAG opening ceremonies proceeded smoothly, though not without controversy. But the Games are just starting, and Tisoy is expected to hit the areas hosting the venues this week. SEAG organizers have canceled the water sports as a precaution; the other events to be held indoors are pushing through.
Local governments and disaster response officials have given assurance that they are ready for the onslaught of the tropical cyclone. Tisoy is shaping up to be a monster typhoon, with Metro Manila directly in its path and areas at high risk of flooding identified. Evacuation centers must be readied and high-risk communities placed on alert for rapid transfer to safe areas. Weather experts have sounded the alarm; there is no excuse to be unprepared.