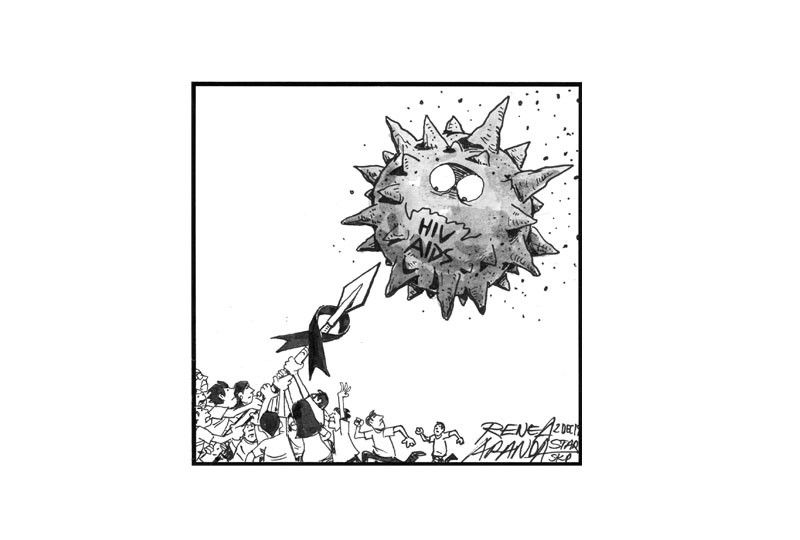 EDITORIAL - Communities make the difference
(The Philippine Star) - December 2, 2019 - 12:00am
Two laws have been passed related to the spread of the AIDS-causing human immunodeficiency virus. The first one aims to prevent its further spread, and the latest one promotes the welfare of persons living with HIV and Acquired Immune Deficiency Syndrome.
In the past decades, awareness of HIV/AIDS has risen among Filipinos. More people are getting themselves tested, allowing for early diagnosis and treatment. These, however, have not stopped the country from recording the fastest rate of HIV infection not only in the Asia-Pacific region but in the world, according to the joint United Nations Program on HIV and AIDS or UNAIDS Philippines.
As the country joined the international community in marking World AIDS Day on Dec. 1, the numbers remain grim. Last year, UNAIDS recorded 13,384 new HIV infections nationwide – up by 203 percent from the 4,419 registered in 2010. The highest rate of infection is recorded among men having sex with men, with up to 80 percent of those infected in the 15 to 34 age group, according to UNAIDS. The new law lowers the age requiring parental consent for HIV testing, but the potentially fatal virus continues to spread.
UNAIDS estimates that there are now 77,000 people living with HIV in the Philippines, but only 62,029 of them had been diagnosed as of October this year. While the figures are low compared to those in several other countries, the rate of infection is fastest in the Philippines.
This gives urgency to measures that will slow down the spread of the virus and help persons living with HIV/AIDS remain productive, protected from discrimination, and able to live as normal a life as possible. World AIDS Day 2019 aims to mobilize communities along these lines. As in any public health problem, a holistic approach is needed to improve understanding of HIV/AIDS, promote safe sex and prevent the spread of the virus, and protect persons living with the affliction. The theme of World AIDS Day emphasizes this thrust: communities make the difference.