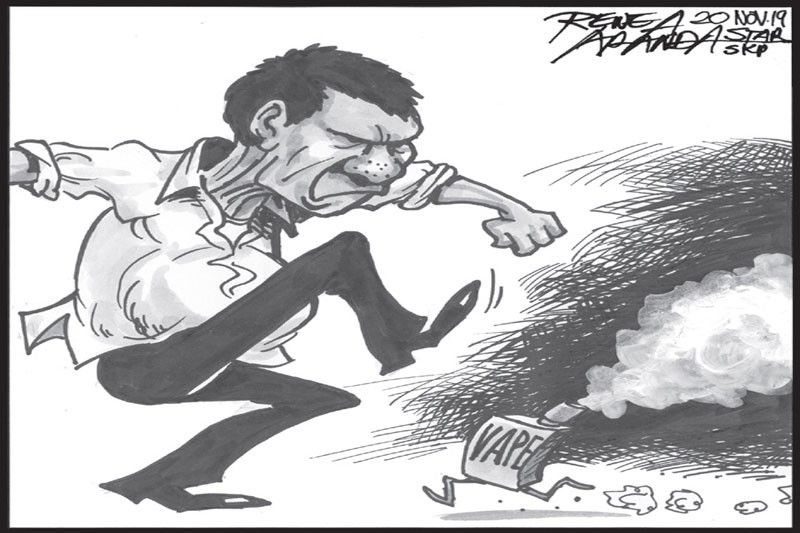 EDITORIAL - Banning e-cigarettes
(The Philippine Star) - November 21, 2019 - 12:00am
After the Department of Health recorded the first vaping-related illness in the Philippines, President Duterte has banned the use of e-cigarettes in public places as well as the importation of the products.
Health advocates including physicians' groups welcomed the ban. In a late-night press conference on Tuesday, the President ordered the Philippine National Police to arrest violators. The PNP, however, will need an executive order as basis for apprehending vapers. Malacañang must not drag its feet on the EO.
Health experts including officials of the World Health Organization have warned about the risks posed by electronic cigarettes, which its producers have touted as "safer" alternatives to regular cigarettes. In the United States, federal authorities are investigating 42 deaths linked to vaporizers, apart from the thousands of people who have suffered from EVALI – e-cigarette or vape-associated lung injury – after using electronic cigarettes. The use of flavored products to attract young vapers is also being investigated in the US.
In the Philippines, where the burgeoning vaping industry has been largely unregulated, Judges Ira Fritzie Cruz-Rojo and Teresa Soriaso of the Pasig and Manila regional trial courts, respectively, have stopped the Food and Drug Administration from regulating vaping. A powerful lobby has emerged, opposing efforts to slap a hefty excise tax on e-cigarettes and regulate their use in public.
President Duterte cut through the opposition by announcing that he would ban vaping in public places as well as the importation of e-cigarettes. Local government units can complement this public health initiative by passing ordinances against vaping in public. Administration officials should also keep an eye on the progress of the court battles involving vaping, and how temporary the TROs issued by Judges Cruz-Rojo and Soriaso on the FDA will be.
The President's pronouncement should also prod his congressional allies to speed up the passage of measures involving the vaping industry. A law would institutionalize the President's ban on vaping in public places, and help keep e-cigarettes out of the hands of minors. While waiting for the legislation, the challenge is the proper enforcement of the President's order.