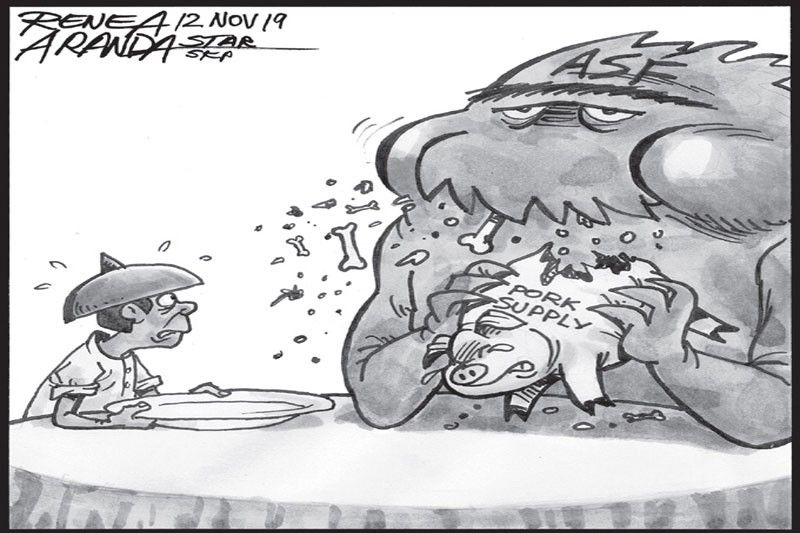 EDITORIAL - No end to ASF
(The Philippine Star) - November 12, 2019 - 12:00am
Heeding health experts' advisory that pig meat is safe to eat, even with the presence of African swine fever or ASF in the Philippines, consumption of pork in various forms continues in the country the world's 10th largest pork consumer and seventh biggest pork importer.
Players in the $5-billion local hog industry, however, say that sales are drastically down, particularly for processed products in which the meat in its fresh, raw form cannot be inspected by the consumer. The United Nations Food and Agriculture Organization reported that because of ASF, world meat production has slumped for the first time in 20 years, putting a strain on markets and affecting food security.
Philippine hog raisers and producers of processed pork items aren't the only ones suffering. Consumers are feeling the impact as demand rises for other types of meat. Consequently, prices are going up for chicken and beef. The price uptick is likely to continue unless the government can do more to contain the spread of ASF.
The government has been implementing quarantine protocols, animal checkpoints and other measures for containing the ASF virus, which does not affect humans. But the initial carelessness in dealing with infected hogs, particularly the dumping of swine carcasses in rivers, has caused untold damage to the pig industry.
As of last week, according to agriculture officials, some 60,000 hogs had been culled or died of the disease since ASF was first declared on Sept. 9 this year. Containment of the virus is uncertain. Local governments will have to coordinate with animal industry officials to intensify measures for decontamination of persons, vehicles and other items that come in contact with livestock.
Information campaigns are needed even in areas that remain free of ASF, to prevent the virus from entering the communities, and to ensure timely and correct responses in case signs of ASF are detected. This is important particularly for backyard hog raisers, which are among the worst hit in the ASF-affected areas. With no indications that the infection is under control, all agencies concerned must work with industry players as well as entire communities for intensified containment efforts.