EDITORIAL - Dangerous rides
November 11, 2019 | 12:00am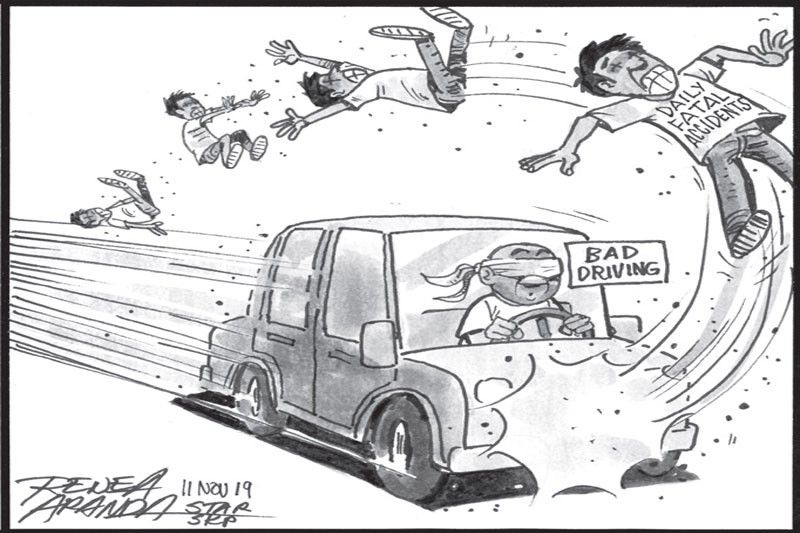 Not a week passes, it seems, in which there is no road accident in this country. From January to September this year, the Philippine National Police Highway Patrol Group recorded 9,663 road accidents nationwide, with 1,186 deaths. That means an average of four deaths every day, according to the HPG.
Poor road conditions are among the factors, the HPG said. This makes people wonder how the Road Users' Tax – which lawmakers are planning to increase rather than abolish as originally planned amid reports of corruption – is being utilized.
Mechanical defects of motor vehicles are also to blame, according to the HPG. Many accidents have been attributed to the malfunctioning of brakes particularly of poorly maintained vehicles, especially at critical moments when the driver is negotiating a sharp curve or steep mountain road.
The biggest culprit, however, is reckless driving. The HPG reported that of the 9,663 accidents, 8,809 were due to speeding, drunk driving, using a cell phone while driving, and miscalculations while overtaking.
There are laws and ordinances against drunk driving and using cell phones while behind the wheel. Drivers should know enough to have safety – their own as well as their passengers – as a primordial consideration. Speed limits are set on highways and major thoroughfares. Yet such laws and rules are brazenly disregarded, mainly because they are rarely enforced.
Consider compliance with traffic rules along Commonwealth Avenue in Quezon City. Dubbed the country's "killer highway" due to an inordinately high number of road accidents, many of them resulting in deaths, authorities imposed a speed limit of 60 kilometers per hour along the thoroughfare. The limit was imposed following the death of journalist Lourdes Estella Simbulan on May 13, 2011 in a vehicular accident.
To ensure compliance with the limit, additional traffic cops were deployed. Although the target of zero accidents has not been achieved, the deaths from vehicular mishaps along the "killer highway" have dropped significantly.
Drivers also comply with a similar 60-kph speed limit imposed along Macapagal Boulevard, where radar-equipped traffic aides of the Metropolitan Manila Development Authority are deployed to pounce on violators. While there are motorists who decry the speed limit as a useless speed trap along a thoroughfare with relatively light traffic, no one is calling Macapagal Boulevard a killer highway.
Commonwealth and Macapagal show that if motorists believe they can be caught and penalized for breaking traffic regulations, they will comply with the rules and drive carefully. Efficient enforcement of traffic rules is as critical to safe rides as proper vehicle maintenance, good road quality and defensive driving.