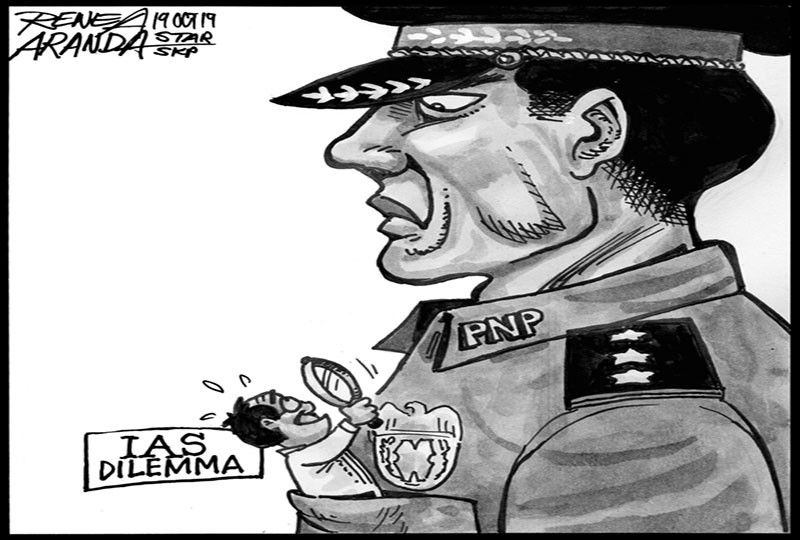 EDITORIAL - Strengthening the IAS
(The Philippine Star) - October 19, 2019 - 12:00am
Since assuming office, President Duterte has shown a soft spot for the Philippine National Police. He has given the principal enforcer of his brutal campaign against the drug menace a hefty pay increase. He has improved PNP equipment and given substantial bonuses to its members. He attends the wakes of cops slain in the line of duty.
So it must have pained the President to express "utmost disappointment" – as his aides described it – at the continuing involvement of PNP members in the illegal drug trade. He vented his frustration during a command conference with PNP and other security officials the other day at Malacañang.
If he wants to excise the rot in the PNP, he should boost the capabilities of an office that is tasked to weed out scalawags in the police force. Like other police services worldwide, the PNP has an Internal Affairs Service or IAS, whose mandate is to investigate wrongdoing in the organization.
Amid the controversy related to so-called "ninja cops" – police officers who pilfer and then "recycle" illegal drugs seized during anti-narcotics operations – the civilian inspector general of the IAS, Alfegar Triambulo, has suggested the detachment of the office from the PNP supervisory structure, so that it can have a free hand to do its job.
Under the current setup, IAS findings and recommendations are subject to review and approval by the PNP chief, which has immediate supervision over the office. What happens if the PNP chief himself must be included in an internal probe? This is not farfetched; it is, in fact, depressingly common.
Triambulo is seeking an amendment to Republic Act 8551 – the PNP Reform and Reorganization Act of 1998 – to make the IAS an independent body. To avoid duplication of functions, he wants the National Police Commission to be confined to PNP policy making and administrative matters. He also wants the IAS to have the power to provide protection for whistle-blowers and other witnesses in cases of police wrongdoing.
Yesterday, the Senate Blue Ribbon committee submitted to the President its report on the ninja cops whose drug raid in Mexico, Pampanga in 2013 – described by the panel as a "hulidap" – led to Gen. Oscar Albayalde's fall from grace. Taking up Triambulo's suggestion would be a positive follow-up to the Senate probe. Malacañang, for its part, can find other ways of strengthening the IAS.