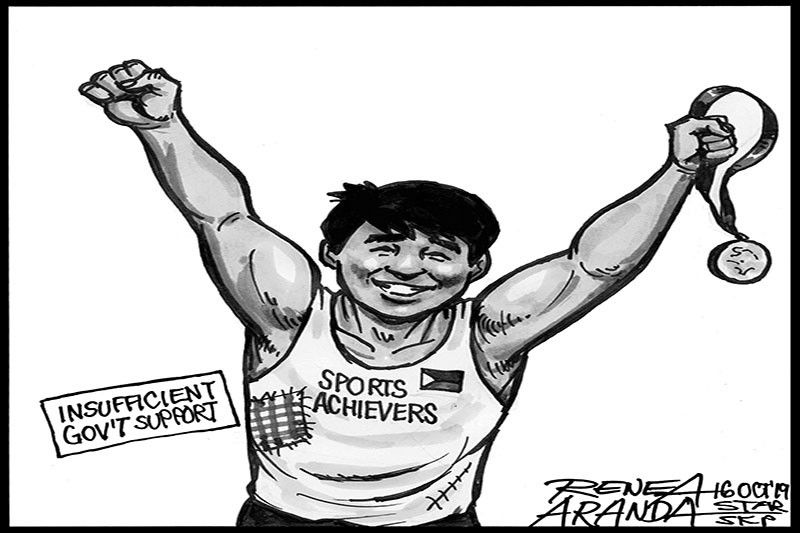 EDITORIAL – World champions
(The Philippine Star) - October 16, 2019 - 12:00am
The nation has erupted in jubilation over gold – the medals won this week by Filipino athletes in two international competitions. The jubilation comes on the heels of a long string of disappointments in the performance of Filipino athletes in other international competitions in recent years.
Carlos Edriel Yulo became the first Filipino to win a gold medal at the FIG Artistic Gymnastics World Championships in Stuttgart, Germany last Saturday. The next day in Russia, Filipina boxer Nesthy Petecio won the 2019 AIBA Women's Boxing World Championships.
Cash and other incentives from both the government and private sector await the two world champions, along with personal congratulations from President Duterte, lawmakers and other public officials.
The story of Yulo in particular has captivated the nation, and highlighted the need for more resources to produce world-class athletes. As a young boy, Yulo had shown an unusual interest and skill in tumbling. This prompted his grandfather to seek out individuals who might determine if the boy had potential in gymnastics.
Yulo's path to professional training was difficult. When he finally obtained sponsors, he trained with rigorous discipline in Japan. Following his victory in Germany, he has raised hopes that the Philippines might finally bag a gold medal in the Olympic Games.
The victories of Yulo and Petecio have also raised public expectations for a much-improved performance from the Philippine team in the upcoming Southeast Asian Games, which the country will be hosting in a few weeks. The country's performance in the SEA Games in recent years has been disappointing, with blame being laid at the doorsteps of bickering sports officials.
Yulo and Petecio have shown that with sufficient support, rigorous training and discipline, Filipino athletes can excel on the world stage. Officials in charge of sports development must ensure that the momentum will not be lost.