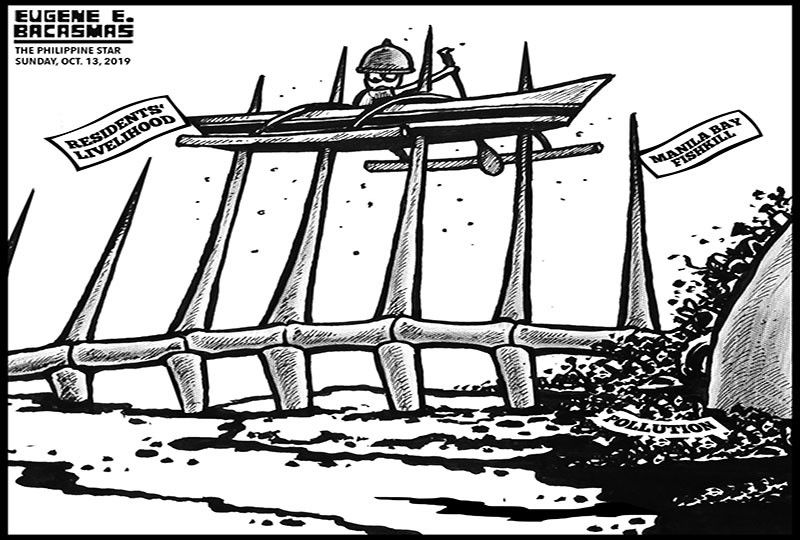 (The Philippine Star) - October 13, 2019 - 12:00am
Maybe the threat to livelihoods will prompt a serious coastal cleanup. Officials estimate that fishermen around Manila Bay have lost up to two metric tons of commercial fish species following a fish kill in the area.
The Bureau of Fisheries and Aquatic Resources attributed the fish kill to lack of oxygen. This in turn was likely due to excessive waste from agricultural, domestic and industrial sources, according to BFAR.
Many of the dead fish were found floating in the Las Piñas-Parañaque Critical Habitat Ecotourism Area, where the mangrove forest is helping to revive water quality and providing a brake to storm surges and flooding. In 2013, the area, which is also a bird sanctuary, was included in the Ramsar List of Wetlands of International Importance. This binds the Philippines and other signatories to the Ramsar Convention on Wetlands, approved in Ramsar, Iran in 1971, to provide special protection to the critical habitat.
While the ecotourism area has helped revive water quality and the ecosystem, there are still too many sources of pollution that cause periodic fish kills around Manila Bay.
Testing by the BFAR after the latest fish kill showed high levels of ammonia and phosphates in the water, which aquatic experts said could have come from chemical waste from agriculture, households and industries. Among the types of fish found floating were tilapia, bakoko or sea bream, sapsap or Ponyfish, barracuda, ayungin or silver perch, bakule, siliw and manabon, the BFAR said.
President Duterte, who had previously ordered a thorough cleanup of Boracay island, has ordered the rehabilitation of Manila Bay. The latest fish kill should give an indication of the challenges ahead. It should also prompt a review of more reclamation projects proposed or approved around the bay, which could aggravate flooding and pollution and threaten the already fragile ecosystem in the area. The bay is suffocating in toxic waste, and needs to breathe freely.