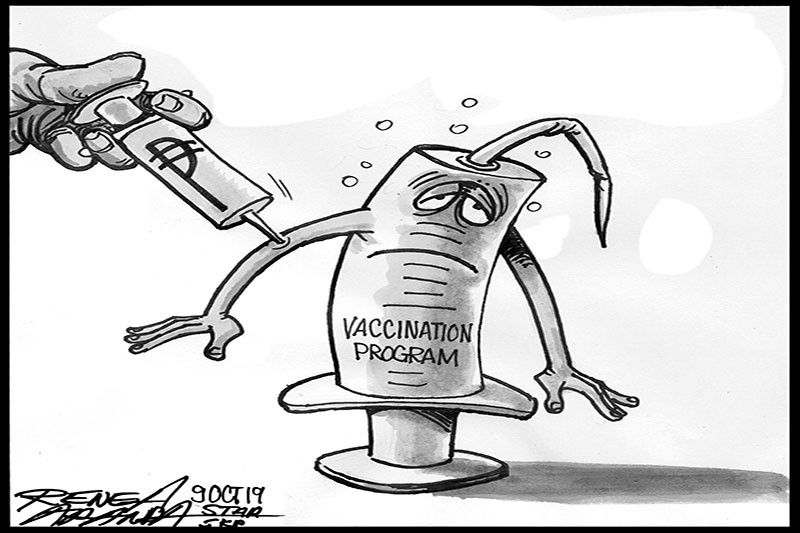 EDITORIAL – Back to immunization
(Philstar.com) - October 9, 2019 - 12:00am
In 2020, senators say the Department of Health will get P7.54 billion for its immunization program. The DOH must reassure the public that the funds will be fully accounted for and properly utilized.
Controversy has hounded the DOH in recent months. In February this year, as deaths from a fresh outbreak of measles hit 136, the DOH was urged to account for the P7.43 billion that it received for immunization programs in 2018. A party-list congressman noted that last year, the immunization rate for measles was only 39 percent, which meant over two million children did not get vaccinated.
The judicious utilization of funds for public health care gains urgency as the country sees the return of measles and polio. Recent reports about children's deaths due to measles ended the months-long hysteria against vaccination. Parents are again taking their children to health centers for immunization.
The country was declared polio-free 19 years ago, and measles has not been seen for a long time. Perhaps people became complacent and no longer saw the need for immunization. The scare over the anti-dengue vaccine Dengvaxia compounded the complacency. Despite reassurances from health experts about the safety and efficacy of vaccines other than Dengvaxia, participation in immunization programs dropped precipitously across the country.
There is still no rush to revive the Dengvaxia program despite dengue epidemics being declared in several areas including parts of Metro Manila. But parents are again bringing their children to health centers for vaccination. Policy makers want to be prepared for increased participation in immunization programs. The preparations start with sufficient funding.
An estimated 2.7 million infants will receive vaccines against diphtheria, pertussis or whooping cough, tetanus, measles, rubella, influenza, polio, tuberculosis, hepatitis B and yellow fever. About 2.7 million pregnant women are expected to be given anti-tetanus vaccines. For the elderly, two million flu shots and 500,000 units of pneumonia vaccines will be made available. Today the Dengvaxia scare is dissipating. It should not be replaced by doubts about the utilization of funds for immunization.