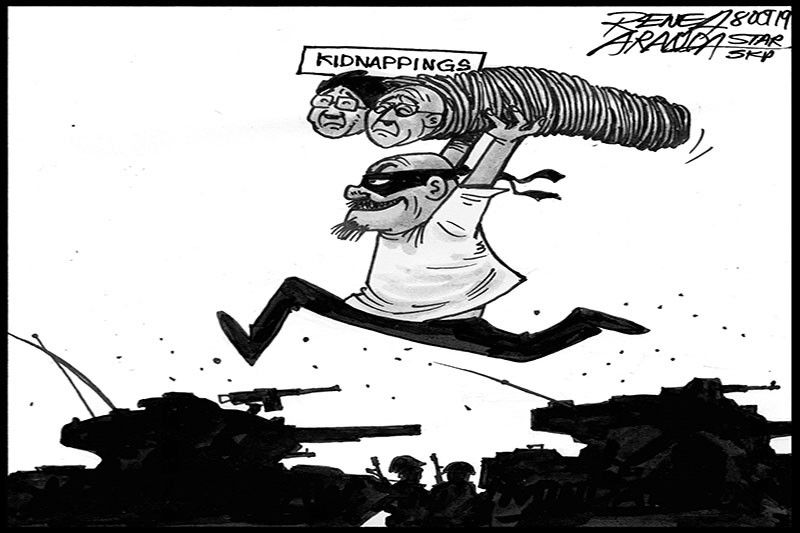 EDITORIAL – Kidnapping spree
(The Philippine Star) - October 8, 2019 - 12:00am
In Zamboanga del Sur, a foreigner and his Filipino wife were kidnapped by armed men in their own beach resort. In Metro Manila and several other parts of the country, kidnapping cases targeting workers in casinos and offshore gaming operations are on the rise.
Many of the victims are reportedly indebted foreign gamblers, mostly Chinese from the mainland, who are snatched and held for ransom to force them to pay up. Others are simply kidnapped and shaken down. While the principal suspects in most of these cases appear to be Chinese nationals themselves, the foreigners reportedly employ Filipino muscle, usually former police officers.
Last month, President Duterte had warned that foreigners who engage in kidnapping for ransom, drug trafficking and other crimes in the Philippines would be caught "dead or alive – preferably dead" so the state would not have to feed the suspects while in detention.
The President can deliver a similar stern warning to those who have turned kidnapping for ransom into one of the most lucrative cottage industries in Mindanao. This scourge has been around for ages in the conflict zones of the southern Philippines, but it also pops up in other areas of the country. Authorities must make sure that the threat never goes out of hand.
This can be done if the state delivers a strong message that kidnappers, including their families, will not be allowed to enjoy the fruits of their criminal activities. One successful kidnapping breeds impunity, and the government will find itself facing a resurgence of the scourge. Or in the case of Metro Manila, there could be more kidnappings of foreigners, which might even spill over into local targets.
In previous years, the country has seen how things can quickly get out of hand when kidnappers see how lucrative the crime can be, and the high possibility of getting away with it. Before this happens, the government must launch a crackdown, catch the perpetrators and show that their crime will not pay.