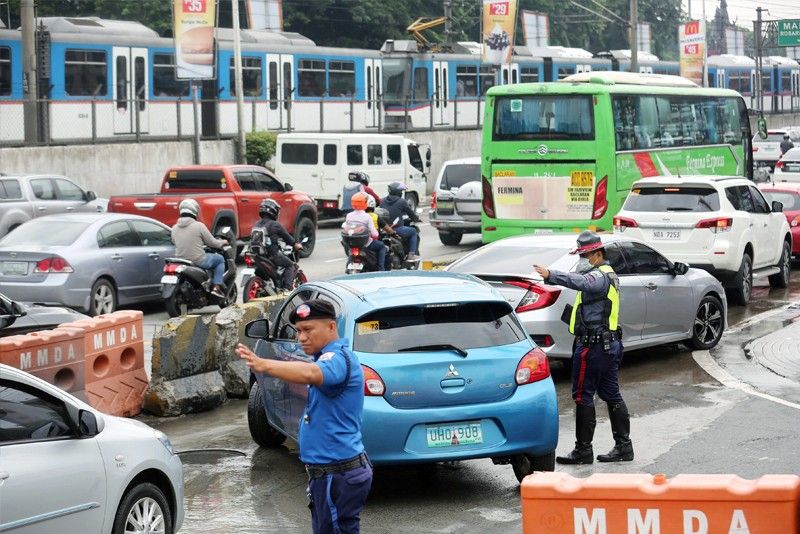 Senator Grace Poe further stressed that emergency powers is dangerous since it can lead to runaway corruption or used to forward a political agenda outside solving traffic.
Michael Varcas
Are emergency powers warranted to solve traffic?
THE CORNER ORACLE
-
Andrew J. Masigan
(The Philippine Star) - September 25, 2019 - 12:00am
The Department of Transportation (DOTr) says it can put a sufficient number of solutions in place to solve Metro Manila's traffic within two years if it were to be granted emergency powers. Without it, it could take a decade.
Among the provisions of the emergency powers are the following:
Government is to install a "traffic czar", in this case, DOTr Secretary, Arthur Tugade. Having a single person responsible for all issues relating to traffic negates the need to co-operate between the MMDA, LTO, LTFRB, and the Highway Patrol, not to mention the 17 local government units of Metro Manila; Emergency powers will relax procurement procedures; It disqualifies lower courts from issuing temporary restraining orders (TROs) for the acquisition of rights of way (ROWs) but instead, vests the power solely on the supreme court; It will give the traffic czar powers over public utility vehicles (PUVs), their franchises and routes; It gives the traffic czar power to open roads in private subdivisions.
The bill that seeks to grant government emergency powers was approved on third reading by the Lower House. However, it is struggling at the Senate. Senator Grace Poe is not convinced that emergency powers are necessary.
In an exchange of messages between the Senator and myself, she said this (and I paraphrase):
"There are already several laws to address procurement and ROW issues; 1) RA 9184 gives the DOTr alternative modes of procurement and limits the period to just 3 to 6 months; 2) EO 34 allows agencies to directly avail of alternative modes of procurement such as direct contracting, repeat order or negotiated procurement; 3) RA 10752 sets negotiated sales (of properties used for ROW) to just 30 days. If negotiations fail, an expropriation case will follow for which a Writ of Possession will be issued in 7 days; 4) Judges cannot order further hearings on property values; 5) RA 8795 prohibits lower courts from issuing TROs or injunctions on government ROW or procurement projects."
The Senator further stressed that emergency powers is dangerous since it can lead to runaway corruption or used to forward a political agenda outside solving traffic.
The Senator demands to see a traffic masterplan, which she claims the DOTr is bereft of. Until she knows exactly how emergency powers will be used, she says the Senate will not accede to granting emergency powers.
This is what the DOTr says:
A masterplan exists in the form of "The Roadmap for Transport, Infrastructure Development Plan". Written in 2014 and updated in 2017, this roadmap takes into consideration road management, public transportation and new infrastructure needed until the year 2030. It also touches on railways, river ferries, airports and seaports since they also affect traffic. It is a holistic and extensive roadmap, one that does not focus on EDSA alone.
A list of projects where emergency powers are to be used was submitted to the Senate back in September 2016. Senator Poe herself acknowledged receipt of it in a radio interview with Noli de Castro.
As for the enabling laws that make procurement and acquisition of ROW faster, the DOTr says these are simply not enough. Here are the reasons why.
On ROW acquisitions, the usual mode is through a negotiated sale. The process mandates government to pay a downpayment of 50% for real property before it facilitates the takeover. The balance will only be paid once the title has been transferred to the government. Who in their right mind will accede to transfer their land titles with only a 50% payment? The juggernaut inevitably results to government invoking eminent domain, a process that could take years. Emergency powers solves this.
On procurement, while the enabling laws cited by Senator Poe shortens some of the processes, negotiated procurement still requires public bidding. Further, there are only three situations wherein negotiated procurement can be used: the first two is during states of calamity while the third is when immediate action is needed to prevent loss of life or property.
One of the reasons why traffic has escalated to crisis proportions is because the 17 local governments of Metro Manila each have their own ordinances that relate to traffic management and Public Utility Vehicle (PUV) management. These ordinances are not synchronized.
The DOTr cannot mandate LGUs to conform to a harmonized traffic system without violating the local government code. Hence, the need for emergency powers.
The sheer number of buses on the roads, their disrespect for traffic rules and the bus depots located on EDSA are major contributors to traffic. For decades, government has tried to reign-in bus operators but to no avail. This because the majority of franchise owners are political personalities, military men or entities connected to both. Their political clout makes them "untouchable". It has also become standard practice for them to slap government with one court case after another should their franchise be threatened.
Emergency powers allow government to put rhyme and reason to the number of buses on the road and the routes they ply. It can compel bus depots to leave EDSA where they are a nuisance and instead use a central depot such as the Paranaque Integrated Transport Exchange. Bus operators can no longer rely on their political clout and TROs to circumvent the common good.
The lack of alternative routes causes major arteries like EDSA to be perennially clogged. With emergency powers, government can quickly compel private villages to open their roads for public use. This, by itself, will improve traffic tremendously.
Moreover, emergency powers will allow government to relocate informal settlers faster so as to expedite priority infrastructure projects.
That said, let me speak as a citizen.
I have nothing but respect for Senator Grace Poe and appreciate her vigilance in ensuring that emergency powers are not abused.
But let me say this. We all know that the traffic problem can only be solved with a basket of solutions that include installing more efficient modes of public transportation, adding more roads and coming up with a sensible PUV system, among others.
The enabling laws that were cited by the good Senator can only go so far. If we really want to solve traffic quickly, government needs encompassing powers to do what needs to be done without incumbrances or delays. These powers are what the governments of Singapore and South Korea have – countries we envy for having their act together in traffic management.
The citizenry has suffered enough and to be honest, I am willing to risk giving emergency powers to government so it can solve the traffic crisis once and for all. It will be good for the economy and will improve our quality of life. After all, the emergency powers are only for two years and the legislature has oversight functions to pull the plug on it anytime.
Before us lies a good transport masterplan (that I have read) that makes sense. Instead of standing in the way of its speedy implementation, let us allow the DOTr to bring it to fruition.
If we do not, let us prepare to live with traffic for decades. In which case, we will look back at this time, with regret and trepidation, for not giving this solution a chance.