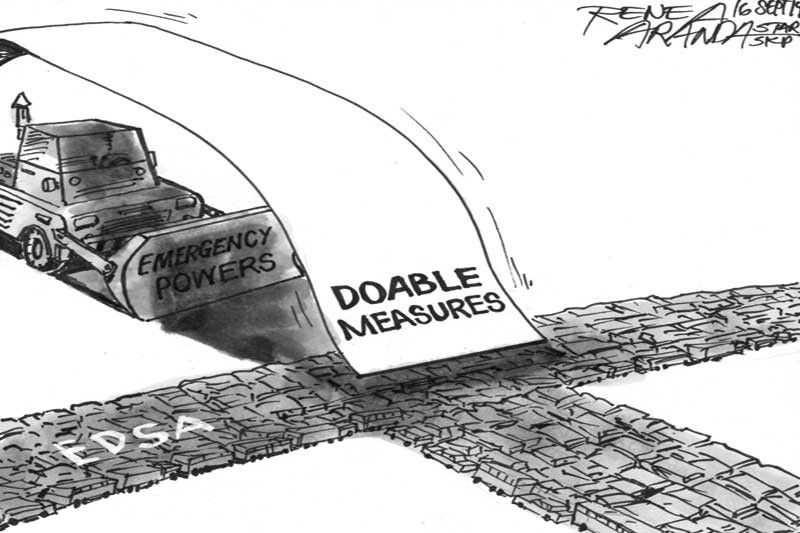 EDITORIAL - Beyond emergency powers
(The Philippine Star) - September 16, 2019 - 12:00am
After three years, it looks like senators remain lukewarm to proposals to give President Duterte emergency powers to untangle the traffic mess particularly on EDSA. The bone of contention has always been the Senate's request for the administration to specify exactly what powers are being requested or for what specific purposes.
Senators have refused to grant blanket authorization that might open doors to corruption, by circumventing procurement laws or the constitutional separation of powers, for example. An exasperated President Duterte has said he's no longer interested in the emergency powers.
This should not mean he is giving up on the traffic mess in Metro Manila, which experts estimate is costing the country billions in lost economic productivity. A recent report said patients in ambulances have died because heavy traffic in Metro Manila prevented the vehicles from reaching hospitals on time. The president's spokesman facetiously suggested that helicopters be deployed for such emergencies. No one stuck in infernal traffic can afford to laugh.
In fact some officials are showing that certain things can be done, even without emergency powers, to improve traffic flow. Manila Mayor Isko Moreno cleared some of the most congested streets in the country of vendors, illegally parked vehicles and other obstructions, opening the streets to vehicular traffic. He has so far sustained his campaign without incurring a lawsuit.
Schemes to rationalize bus deployment and movement on EDSA have been proposed, with at least one measure involving provincial buses now the subject of a court injunction. Even without emergency powers, authorities can clamp down on "colorum" buses and prune the number of franchises covering EDSA. The President can use his considerable political capital to get industry players to cooperate in rationalizing the deployment of buses, so that they don't have to engage in cutthroat competition for passengers and turn various stops into virtual terminals.
There are also several schemes being considered to reduce the volume of private vehicles. Police traffic teams are exploring tighter enforcement to keep vehicle flow moving along EDSA. As for long-term measures, emergency powers will not solve bureaucratic bottlenecks and inefficient processes in implementing infrastructure projects necessary for reducing traffic.
Some agencies have started opening to the public roads in private subdivisions, even without approval from homeowners, to ease traffic along main thoroughfares. This can be done without emergency powers, and it may be carried out in a way that would enjoy the support of homeowners. The President has immense persuasive powers that can be applied to get everyone on board. Even without special powers, many things can be done in the name of public interest.