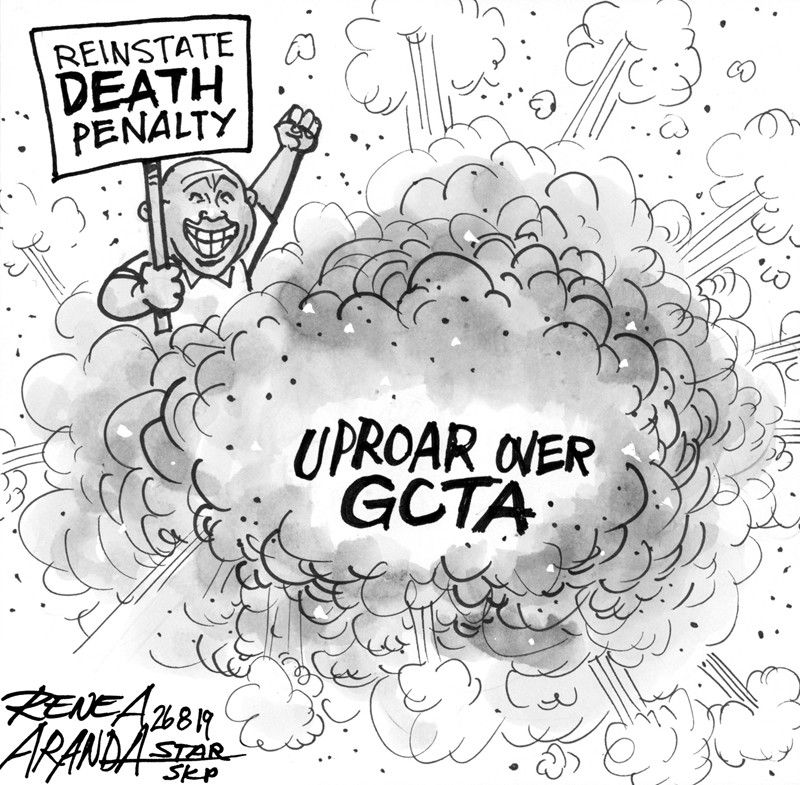 EDITORIAL - Second chance
(The Philippine Star) - August 26, 2019 - 12:00am
Everyone deserves a second chance: this is the idea behind modern penology. As the word "corrections" implies, putting an offender behind bars as punishment also includes a parallel objective, which is to correct or rehabilitate the criminal so that he or she can return to society as a productive, responsible citizen.
There is no second chance, of course, in states where there is capital punishment. But in countries where the death penalty has been abolished, there are mechanisms that give credit for good behavior among those who are undergoing corrections. In the Philippines, Republic Act 10592 was signed in 2013 by then president Benigno Aquino III, allowing those convicted with finality to avail themselves of the so-called Good Conduct Time Allowance or GCTA to shorten their sentences and be freed.
In applying RA 10592 in the case of Antonio Sanchez, authorities must make sure that their interpretation of the law would not weaken the corrective aspect of imprisonment and deprive deserving inmates of GCTA.
Sanchez was the mayor of Calauan town in Laguna in 1993 when he raped University of the Philippines-Los Baños student Mary Eileen Sarmenta, tossed her to his men for rape and execution, and had her friend and fellow UPLB student Allan Gomez tortured and killed.
Last June, the Supreme Court, acting on a petition, ruled that RA 10592 should be applied retroactively. The Department of Justice then disclosed that among those who could benefit from the SC's ruling would be Sanchez, who might be released as early as within two months.
In the resulting public uproar, the DOJ backpedaled, with officials saying Sanchez, who is serving seven life terms simultaneously, is excluded from the GCTA law because he committed a heinous offense. Some legal experts say, however, that the exemption covers only offenders who have not yet been convicted with finality, or those who are under preventive imprisonment.
There is no question that Sanchez's crime was heinous. Depriving him of the benefits of RA 10592 would be more reasonable if based on his misbehavior while serving his sentence. He has been slapped additional charges for drug possession and trafficking while behind bars, plus other minor violations of prison rules and regulations. There's also the fact that he's serving another sentence, for the murders of a man and his son who were supporters of his rival for the mayoralty race in Calauan.
In the confusion, DOJ and Bureau of Corrections officials have suspended all GCTA processing, and have promised to come up with clear rules. They must ensure that inmates who have genuinely been on their best behavior while behind bars get a second chance.