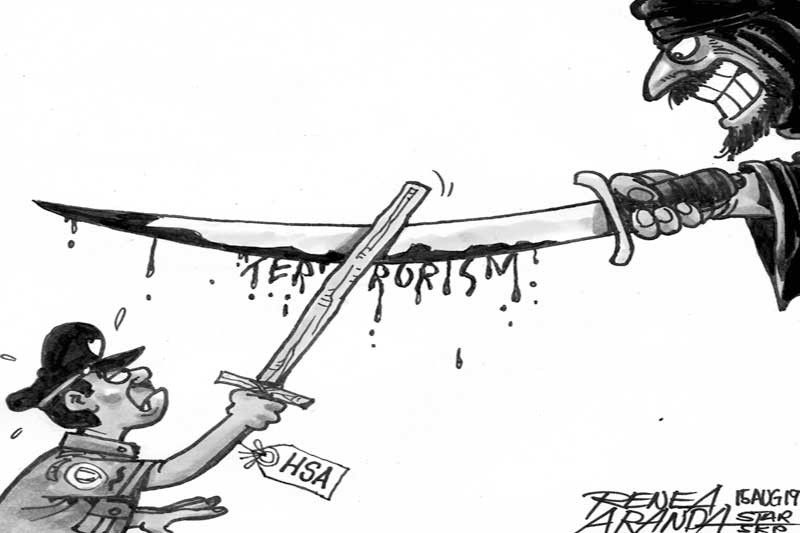 EDITORIAL - Trust deficit
(The Philippine Star) - August 15, 2019 - 12:00am
The proposal to amend the law that defined terrorism as a specific crime will hinge on public trust – trust in government, particularly those tasked to keep the public safe.
Filipinos complain that the country has a lot of laws but weak enforcement. Republic Act 9372, the Human Security Act, has to be one of the least used laws, despite all the time, effort, public funds and passionate debates that went into its passage by Congress.
RA 9372 was supposed to serve as a powerful weapon for fighting terrorism, from plotting, abetting and staging terrorist acts to laundering funds raised by sowing terror. It was passed in 2007, at a time when other countries were also drawing up measures to prevent the minions of Osama bin Laden and al-Qaeda from committing more mass murders and destroying the way of life in free societies.
The Philippines, however, faces other internal threats to public safety. And government security forces have been burdened for a long time by a public trust deficit, arising from a record of abusing state power in the name of national security.
Lawmakers wanted to ensure that such abuses would not be encouraged by RA 9372. So human rights safeguards were built into the law. These, however, effectively took away the presumption of regularity in law enforcement, and left no room for even the most dedicated and efficient counterterrorism agent to make a mistake.
In the 12 years since RA 9372 was enacted, you can probably count on the fingers of one hand the number of times security forces have applied it. A critical element of counterterrorism is prevention. But if a plot is uncovered, a terror cell is broken up and an attack does not materialize, an accused terrorist could argue that there was never any such plot. Considering the country's broken criminal justice system, there's a chance that the accused will be acquitted. Under RA 9372, the arresting officer could instead end up being imprisoned for 10 to 20 years for making a wrongful arrest.
So RA 9372 has been an unused, useless law. It might have even deterred state forces from conducting a better job of monitoring threat groups and preventing terrorist attacks, such as the siege of Marawi by Maute and Abu Sayyaf militants.
Now the 18th Congress is considering proposals to amend the law. If any additional powers are abused, there are already existing laws that can hold state forces accountable.