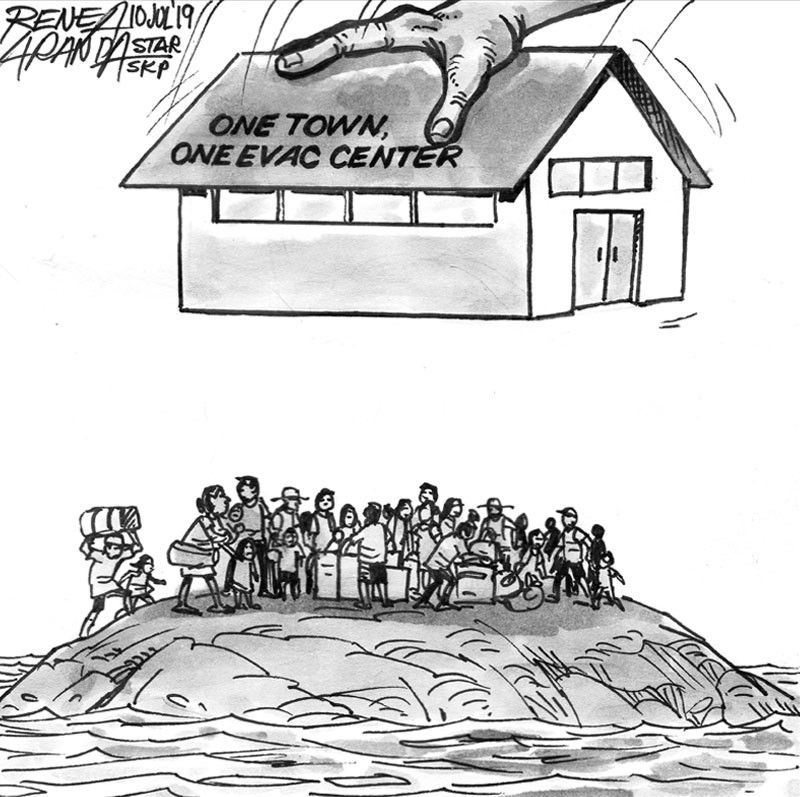 EDITORIAL - One town, one evacuation center
(The Philippine Star) - July 10, 2019 - 12:00am
The heavy monsoon rains have started, and weather experts have warned that this year's El Niño, although considered weak, will mean a stronger storm season. The experts also warned that some weather disturbances might rival the torrential rains and flooding spawned by Tropical Storm Ondoy in 2009 in Metro Manila and nearby areas.
In November 2013, Super Typhoon Yolanda killed thousands and unleashed apocalyptic destruction across much of Eastern Visayas. The government has been implementing disaster mitigation programs for many years, but nothing prepared the country for Yolanda's fury. Yolanda, Ondoy and several other powerful tropical cyclones showed the inadequacy of programs for disaster resilience, starting with the most basic – a place to seek shelter from nature's wrath.
With the 18th Congress about to open its session this month, a bill has been refiled by Sen. Ralph Recto, seeking the establishment of a decent evacuation center in every city and municipality nationwide. Recto noted that the Department of Public Works and Highways has constructed 82 evacuation centers in 52 provinces, with 55 more underway. Yet in many areas, schools continue to serve as evacuation centers during calamities.
Schools are not designed for mass housing. There have been numerous stories of diseases spreading in crowded evacuation centers, where there is often inadequate supply of water and basic sanitation facilities. Children and the elderly are the most vulnerable to health risks in such cramped evacuation sites.
Using schools as shelters also displaces students. Even when the weather has improved sufficiently for classes to resume, evacuees may not yet be ready to move out for lack of new shelters. Recto is proposing a "one town, one evacuation center" program, with the centers sturdy enough to withstand earthquakes of up to intensity 8 and typhoon winds of up to 300 kilometers per hour.
When not in use, the centers can serve as multipurpose halls, housing libraries or used for sports and other community events. Constructing such centers will require significant funding, but it will be an investment in saving lives.