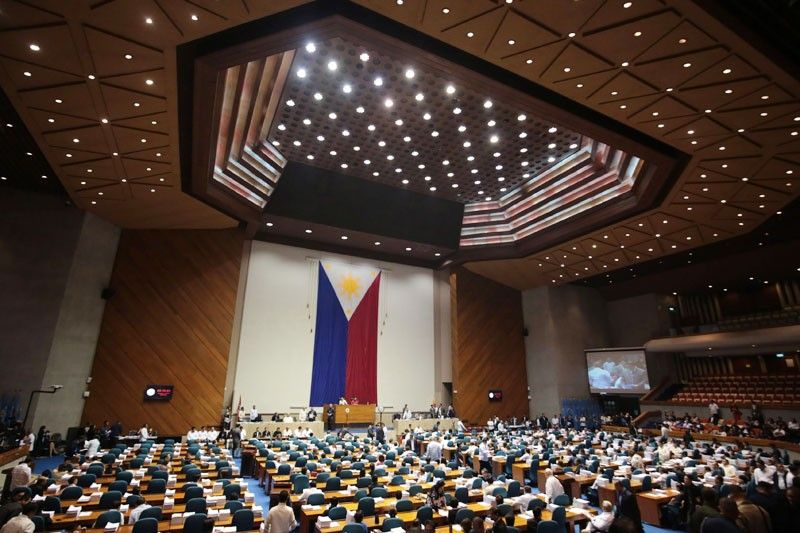 In the words of my source it is the realization that becoming Speaker of the House gives you the power to "redirect" or prioritize or "enlarge" infrastructure projects to your district and earn you billions of pesos in "pocket" or "pocketed money".
Michael Varcas/File
CTALK
-
Cito Beltran
(The Philippine Star) - July 5, 2019 - 12:00am
The ludicrous suggestions for four to six candidates to do term sharing over speakership of the house brings to mind what I often see on cable TV; a pack of Hyenas tearing apart a prey or piece of meat. With six possible contenders for Speaker of the House of Representatives, we now have to ask what is the real reason or attraction for Congressmen to behave like crabs in a bucket pulling each other down just to get this particular title?
According to a very knowledgeable political operative, it is no longer about prestige or simply power that has caused Congressmen to salivate and squabble over the Speakership. In the words of my source it is the realization that becoming Speaker of the House gives you the power to "redirect" or prioritize or "enlarge" infrastructure projects to your district and earn you billions of pesos in "pocket" or "pocketed money".
It would be unfair to generalize but a couple of congressmen in the last congress reportedly made so much money that they could retire for life with billions in the bank. I find this very believable since I know of one individual who was also part of that congress and who bought all sorts of "Toys For The Big Boys" as if money was going out of fashion. When I discreetly asked his alalay, I was told that the lowly Congressman had apparently learned how to earn more money on his second term in Congress besides drawing a salary and allowances and pork barrel. So the next time you hear any of the candidates talk about plans to help the President, the poor and country, don't believe it because their real plans is to help themselves through redirected and enlarged infrastructure projects in their districts. Interestingly enough, none of them ever say they want to do it for God and country because they're too scared to test God, lest they get shot down or exposed for why they really want to be Speaker!
* * *
Many people will probably dismiss the request of President Duterte to the PNP and AFP not to boot him out of office or take over power until after he has finished his term, as mere drama or another dose of distraction. Yes that may be the case, but if I were advising the President, I would caution him or reprimand him not to give life or plant dangerous ideas to people in the AFP and PNP. It is bad enough that Duterte has stuffed the government with retired police and military officials, the last thing we need is for these people to start believing that they have the option to take over government once Duterte is done with politics.
Only Senator Dick Gordon has been honest and brave enough to call out how disturbing the growing number of ex-police and ex-military in government is. This alone could place civilian supremacy in jeopardy regardless of how professional our uniformed officials are. In fact, it is not far from possible that Duterte's replacement in 2022 could end up being a military man and after that it is not altogether impossible that we could end up being just like Thailand that essentially got overtaken by the military after political groups and businessmen kept destabilizing each other. It is bad enough that some people claim that the Philippines is under an undeclared Martial Law. Don't project or claim something that is not there. As they say, be careful what you wish for"
* * *
Very few people noticed or paid attention to two news items that came out early this week, but they are something we should be bothered by and should talk about. The first piece was about the World Bank approving a $300 million loan to fund the current Philippines' 4Ps program. This comes after an earlier loan of $450 million that the World Bank lent the Philippines to fund about seven percent of the cost of the 4Ps program from 2016 to 2019. Little did we know that the Philippine government has been borrowing money that they give away to the poor.
It's not all that bad considering the 4Ps insures that young mothers are required to go for check ups and send their children to school as a condition in order to collect the Cash transfer from government. However, the fact that we borrow "give away money" goes against the lessons we've been taught on financial literacy, "Don't spend money you don't have."
The second bit of news, as if on cue, was the Commission on Audit coming out with a reminder to the Office of the President that the Philippine government has P1.4 billion stashed away that was acquired and accumulated from the conversion of government owned Meralco shares into cash during the Arroyo administration. In other words, while the government has been busy borrowing money from financial institutions, it has been unable to draw up policy and procedures on how they could put P1.4 billion into good news!
The good news is that the money was not placed in some time deposit with the interest being pocketed; the bad news is that we continue to pay interests on loans we did not have to take out in the first place!
* * *
Email: utalk2ctalk@gmail.com