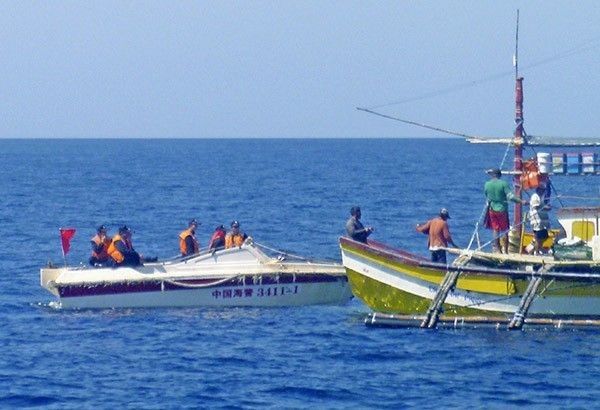 Surrender of fisheries: Start of national ruin
GOTCHA
-
Jarius Bondoc
(The Philippine Star) - June 28, 2019 - 12:00am
The constitutionality of letting China poach our marine resources is for Congress to decide. But ordinary citizens can discern its added burdens on our lives.
The Chinese steal quietly, if incessantly in our exclusive economic zone. To broadcast that we "can give them some fish since we're friends" is to invite worse theft. From China's overfished regions they will come in droves. Not them, but our coast guards, will be restrained.
China's navy will escort the poachers. Ignoring international law and basic decency, Beijing abets their piracy. Filipino fishers who dare defy them will be harmed. Example was Panatag (Scarborough), part of Philippine territory. Instead of defended by Manila, our countrymen were told to fish elsewhere.
Our poor fisher folk will be marginalized. Though baseless in claiming the entire South China Sea, the Beijing-backed poachers will push them to municipal waters. They will famish. Filipino fish catch has dwindled. From 2.15 million tons a year in 2005-2014, it dropped to 1.86 million in 2016. China's has swelled, from 13.18 million tons on average in the same period, to 15.24 million in 2016.
Poachers even smuggle undersize galunggong (round scad) to Luzon. Manila imports bigger ones: 5,000-6,000 tons a year, excluding other fish filched from our own waters.
With the size and equipage of poaching vessels, the Chinese will soon lay to waste our EEZ. Their trawlers upturn the seabed fish habitat. They employ other destructive methods. At Panatag they pulverize surrounding corals with ship propeller blades to get at giant clams. Beijing disregards marine conservation; it has concreted into island fortresses seven marine life-sustaining reefs in our EEZ.
That Beijing is a friend is fantasy. It does not reciprocally allow us Filipinos to fish in its EEZ. "What is ours is ours, and what is yours is ours too" is its policy. It rams and water-cannons our fishers' boats in Recto Bank, Panatag, and Pag-asa Island. It harasses our sailors and flyboys who resupply our marines at Ayungin outpost. A friend aids. China lends – at stiff interest, repayment, and surrender of our patrimonial assets.
The poachers are part of the Chinese navy's maritime militia. Sketches by Filipino survivors of the June 9 boat ramming at Recto Bank hew close to the 84 militia trawlers that Beijing boasts to have built. The militia is given special military missions. Recently it was to swarm around Pag-asa while spying on our Philippine Navy and Air Force movements.
Soon Chinese militia intruders will be dropping bundles of shabu to float ashore. Our military and civilian intelligence services long have known that Chinese generals are behind regular shabu sneak-ins. The generals are answerable solely to communist hierarchs in Beijing. Part of Beijing's strategy is to dope us into docility, for easy conquest. What they hate their former colonial masters for doing to them, they're doing to us.
China will not stop with fisheries poaching. It covets our energy resources. At Recto Bank lies 5.4 billion barrels of oil and 55.1 trillion cubic feet of natural gas, the US Energy Information Administration reported in 2013. That's supposed to be our next gas source when Palawan's Malampaya Field runs out in four years. Beijing falsely claims Recto as part of contrived historical right. It drives away our scientific and commercial exploration vessels from the area 80 miles off Palawan, within our 200-mile EEZ but 600 miles beyond China's.
Thirty percent of Luzon electricity runs on natural gas. China will annex Recto Bank, our fallback. Without the gas from Recto our power plants will shut down. Luzon will suffer hours-long blackouts. Industries will collapse. Millions of workers will be laid off. Homes will become unlivable. Luzon will be impoverished. By first allowing Chinese poaching, chaos will ensue.
China's communist rulers menace us. We cannot consider as a friend one who has not hurt us too much by far despite its might. Beijing has not yet grabbed our entire EEZ only because it is gauging world opinion. But it has occupied our Panatag and is barring our fishers from our Sandy Cay beside Pag-asa. It harms our fishers and harasses our soldiers to test our mettle.
To dare our allies to war on China in our behalf is futile. No country will fight for a race that cannot stand up for itself. That's human nature.
But we're not even sure that the Chinese are poaching, some talk through their hat. That's an insult to the sacrifices of our servicemen past and present who have kept Beijing's communists at bay so far.
Beijing's word cannot be trusted. It agreed to pull out of Panatag then reneged. It proclaimed to not militarize the South China Sea yet erected fortresses. It claims to be a friend but takes advantage of our weakness. We need to beware: fool me once, shame on you; fool me twice, shame on me.
* * *
Catch Sapol radio show, Saturdays, 8-10 a.m., DWIZ, (882-AM).
Gotcha archives: www.philstar.com/columns/134276/gotcha