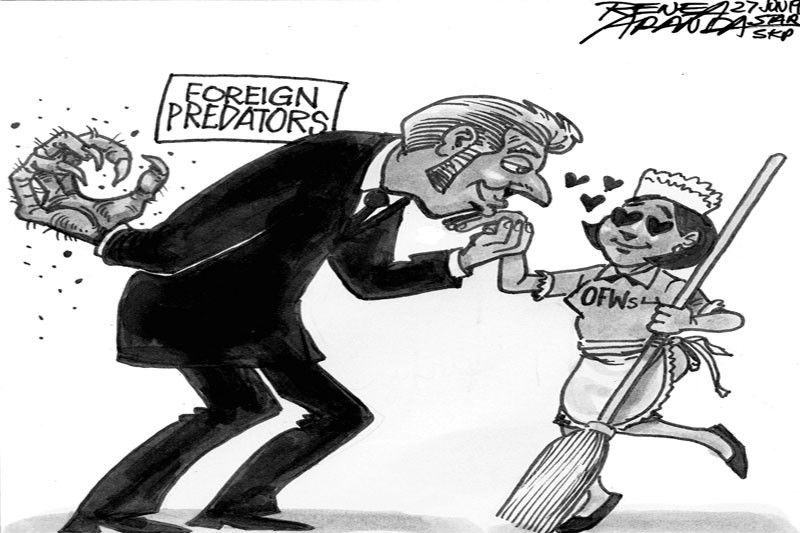 EDITORIAL - Murderous predators
(The Philippine Star) - June 27, 2019 - 12:00am
With enviable speed, a Cypriot court has convicted an army officer just two months after his arrest for murdering seven foreign women and girls, four of them Filipinas, over a period of two-and-a-half years.
Nicholas Metaxas was sentenced to seven life terms by a three-judge panel in the Cyprus criminal court in Nicosia after he pleaded guilty to the serial killings. He sought forgiveness from the families of his victims, saying he did not know what made him commit the atrocities – giving a hint of the lethal charm that he might have used to initially lure the women through an online social networking site.
Such sites have become increasingly common, and Filipinos working or seeking jobs overseas must be sufficiently warned about the risks involved. While genuine romances have bloomed and even led to marriage through online dating sites, cyberspace has also become a boon for perverts who want to inflict pain and even death.
Filipinos who want to work overseas are given briefings on a wide range of issues that are useful to know, from the local culture to the weather and social taboos in their host country. They are alerted about personal risks in zones where there is armed conflict or high criminality.
With the serial murders committed by Metaxas, in a country that is generally seen as a safe place, labor agencies and recruitment offices should include programs that would brief prospective OFWs about the risks in meeting people online.
The government must also work with other countries to further boost protection for Filipino migrant workers. Metaxas' conviction comes on the heels of another OFW being killed in Kuwait. Constancia Lago Dayag of Aganan, Isabela suffered serious beating and apparent rape, and was pronounced dead on arrival at the Al Sabah Hospital last month in Kuwait.
Dayag was abused and killed, with her employer as the principal suspect, despite an agreement between the Philippines and Kuwait to improve protection for OFWs in the Middle Eastern state.
The only positive thing in these tragedies is if the victims get justice – as in Cyprus. Metaxas' conviction should lead to stronger cooperation between the Philippines and host countries to protect migrant workers from abusive employers and murderous predators.