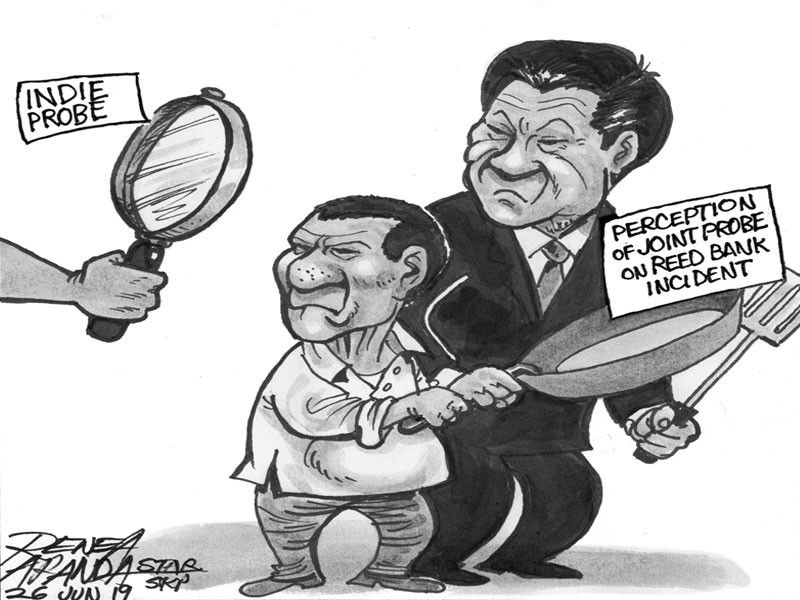 EDITORIAL - Credible probe
(The Philippine Star) - June 26, 2019 - 12:00am
After agreeing to a joint probe, President Duterte is reportedly now willing to have a third party conduct an investigation into the sinking of a Filipino fishing boat after it was hit by a Chinese vessel, which abandoned the fishermen at sea off Recto Bank in the West Philippine Sea on June 9.
Responding to media questions, Duterte said an independent marine board of inquiry could conduct the third party probe even as the two countries carry out separate investigations and try to reconcile conflicting details.
The Philippine government has finished a preliminary probe of the incident, in which a Chinese maritime militia vessel was believed involved. Beijing has denied the 22 Filipino fishermen's story that their boat, the Gem-Vir or GemVer, was deliberately rammed by the Chinese. Beijing is still investigating the Filipinos' complaint that they were abandoned in the water and rescued only four hours later by a Vietnamese fishing boat.
Filipinos cannot thank Vietnam enough for being truly a friend in need. If Philippine ties with China are to recover from this latest strain, the investigation of what President Duterte described as a "little maritime incident" should have unassailable credibility. This is regardless of whether the probe is conducted jointly or separately by the two countries, or with a third party participating.
Lawyers' groups may want to step in to ensure that the fishermen will not be influenced in any way in their narration of their ordeal, especially by any government official. Probers should also invite the Vietnamese to narrate what happened, because their story regarding the rescue jibes with the initial one given by the Filipino fishermen.
Beijing has promised to impose punishment if there were offenses committed by the crew of the Chinese ship. As a friend of the Philippines, China will be held to its promise. The friendship must be strengthened by the truth, which hinges on an impartial, credible investigation.