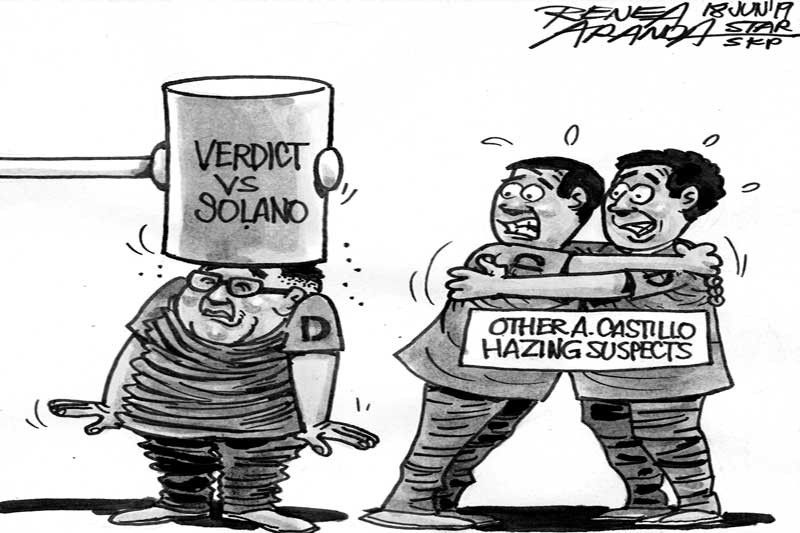 EDITORIAL - One step to justice
(The Philippine Star) - June 18, 2019 - 12:00am
It's not yet the main issue at hand. But the conviction of John Paul Solano yesterday for obstruction of justice in the fatal hazing of Horacio "Atio" Castillo III shows that the case is moving forward faster than the usual pace of Philippine justice.
Castillo's grieving relatives say Solano is not yet off the hook on the hazing itself, which took place in September 2017. Solano was with a convoy that had brought the dying Castillo to the Chinese General Hospital, where doctors failed to revive the law freshman who had wanted to join the Aegis Juris fraternity in the University of Sto. Tomas law school. Solano later told police that he merely found Castillo by the roadside in Manila.
A state witness and an exchange of text messages among fraternity members, according to prosecutors, indicated an attempt to cover up the fatal hazing. Solano's conviction can bolster this angle and more indictments are expected for obstruction of justice. Castillo's parents also want school administrators to be held accountable.
In 1991, the fatal hazing of law school freshman Lenny Villa at the hands of members of the Ateneo law school's Aquila Legis fraternity led to the passage of what was supposed to be an anti-hazing law.
However, possibly because many lawmakers belong to fraternities known to engage in hazing, Republic Act 8049 in fact effectively allowed hazing under regulated circumstances. It wasn't surprising that beastly initiation rites continued even in sororities where girls with a perverted sense of sisterhood slap and burn applicants with drippings from a lighted candle.
With that useless law, it was inevitable that someone would die from initiation rites. Castillo's violent death led to the enactment in 2018 of RA 11053, which expressly prohibits hazing. Under the amended law, culpability is also greater for fraternity and sorority officials even if they are not direct participants in violent initiation rites. School administrators and, under certain circumstances, even parents of hazing participants may also be held liable for the death of a fraternity or sorority neophyte, or for physical, sexual, psychological and other forms of abuse.
Two things are critical for making the law effective in stopping hazing. One is proper enforcement. The other is for the judiciary to make sure that justice is meted swiftly and efficiently. The conviction of Solano, even if only for the lighter offense of obstruction of justice, raises hopes that Atio Castillo might get justice.