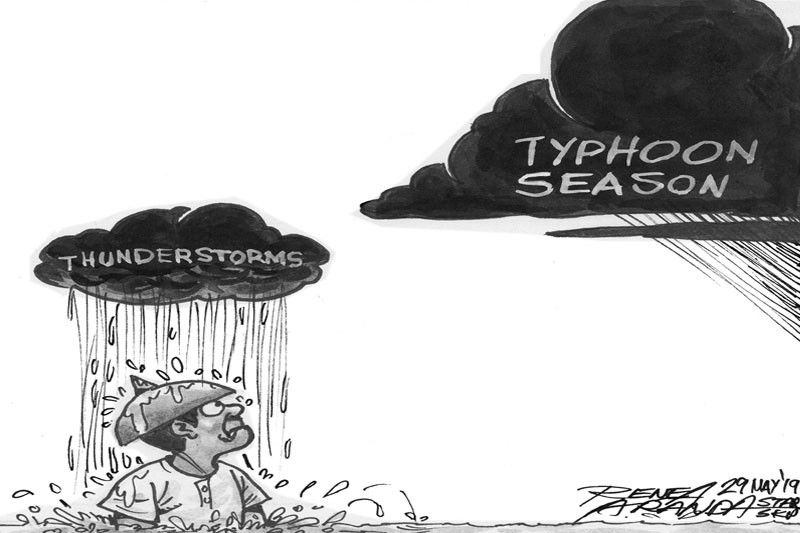 EDITORIAL - Clear the waterways
(The Philippine Star) - May 29, 2019 - 12:00am
After the water shortages come the rains and floods. The torrential monsoons are not yet upon us, but thunderstorms and sudden downpours are increasing, spawning flash floods and snarling traffic.
The official start of the rainy season usually coincides with the traditional school opening. In recent weeks, officials of various agencies have given assurance that they are ready for the onset of the rainy season.
The Metropolitan Manila Development Authority has assured the public that all its water pumping stations are fully operational. Dredging of waterways is an ongoing program of the Department of Public Works and Highways. In Metro Manila, what is slowing down such flood control measures, according to DPWH and MMDA officials, is garbage clogging waterways.
The officials said garbage collection and dredging operations are hampered by the proliferation of informal settlers along the banks of waterways, as well as the encroachment of buildings and even private residences on creeks and canals.
Clearing waterways of all types of obstructions requires the full cooperation of local government units. DPWH and MMDA officials, however, have noted that LGU executives often neglect their duty because informal settlements are sources of votes, while some of the owners of private properties blocking waterways may have political connections.
With the midterm elections over, perhaps there can be progress in efforts to permanently clear waterways of all illegal structures. Some of the newly elected mayors in Metro Manila have promised to build in-city vertical housing to provide viable relocation sites for squatters who will be evicted from the banks of waterways.
Such projects will take time. While waiting for these relocation sites to be completed, LGUs must do more to assist national agencies in cleaning up waterways. When the floods come, local executives who lack the political will to clean up will see their constituents suffer the most.