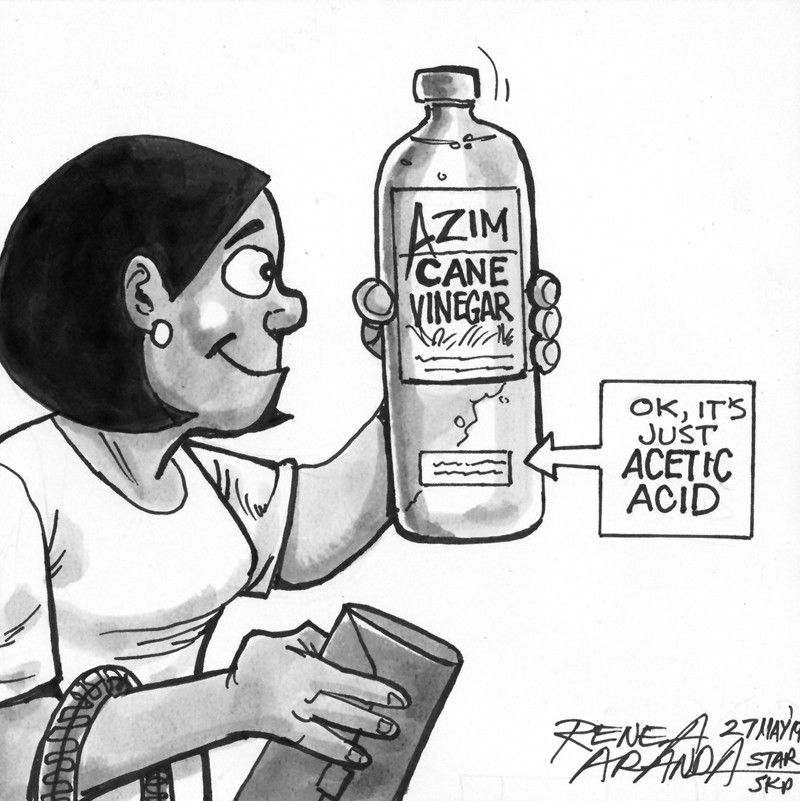 EDITORIAL - Fake vinegars
(The Philippine Star) - May 27, 2019 - 12:00am
Scientific advances allowed the preservation of many types of food using substances that are not derived naturally from plants and animals. The harmful effects of the ingestion of such substances, however, usually can take years to establish with certainty. In this country, there have been periodic scandals involving the use of preservatives and "conditioners" in various food items such as meat products and bread.
Today public attention is focused on vinegars. Researchers from the Philippine Nuclear Research Institute have warned that eight out of 10 vinegar brands sold in the country are "fake" or do not use natural ingredients. Instead the synthetic vinegars use petroleum-based ingredients that can cause cancer and degenerative ailments such as Parkinson's Disease, according to the PNRI, which is under the Department of Science and Technology. The PNRI analyzed 360 vinegar brands.
Natural vinegars are fermented from coconut, sugarcane and various types of fruits such as apples and grapes. The "fake" vinegars reportedly use synthetic acetic acid, which is used as a solvent for paints and resins and produced through the reaction of methanol with carbon monoxide. The fake vinegars are generally cheaper.
Authorities have refused to release the brands of fake vinegars, but Food and Drug Administration officials have promised to tighten the regulation of vinegars following the PNRI warning. Consumers are concerned not only about the fake vinegars, but also about other food items that may contain ingredients harmful to health. Experts are reportedly set to analyze the composition of ketchup brands and other condiments.
It's good that PNRI researchers sounded the alarm on the harmful effects of synthetic vinegar. Many of these vinegars, however, have been around for a long time. The controversy raises questions about the capability of those tasked to monitor the safety of food items, especially processed foods, sold in this country.