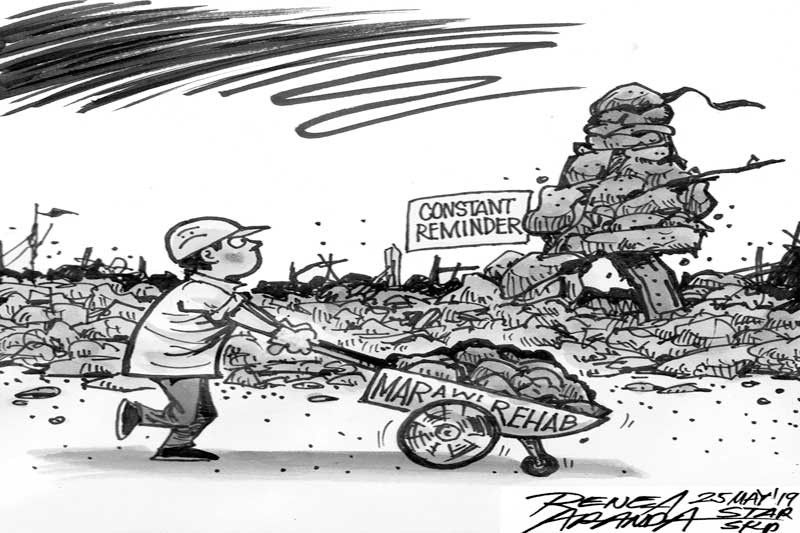 EDITORIAL - Building back slowly
(The Philippine Star) - May 25, 2019 - 12:00am
Rebuilding a devastated city takes time, as we have seen in Tacloban after it was razed by Super Typhoon Yolanda. Still, it looks like the reconstruction of Marawi City after the 2017 siege is moving at an even slower pace. Even the Grand Mosque, which should be a priority in the country's lone Islamic city, has yet to be restored.
Those in charge of reconstruction have said work has been delayed by the numerous explosives still waiting to be unearthed all over the city, including within and around the mosque where the Islamic State-linked terrorists holed up. This has also kept authorities from allowing residents to return to their communities. Similar problems have been encountered in other zones of armed conflict around the world.
Last Thursday, residents of the city marked the second anniversary of the start of the attack that would stretch into a five-month siege. Security officials have yet to come up with a comprehensive report on how Maute and Abu Sayyaf terrorists managed to mount a serious armed challenge to the Armed Forces of the Philippines and the Philippine National Police.
Critics have pointed to an apparent failure of intelligence, noting that top defense and other security officials were with President Duterte in Russia when the attack was launched. The siege could not have been mounted without considerable support from certain quarters in Marawi. Is this support base intact, and would the supporters try to return to the city?
When the Maute and Abu Sayyaf ringleaders were killed and the city was finally liberated by security forces, the government promised to build a better, safer Marawi. After two years, the effort clearly needs an additional push.
After Yolanda, there was a lot of talk about building back better in the typhoon-ravaged areas of Eastern Visayas. In Marawi, just getting on with building back will be good enough.