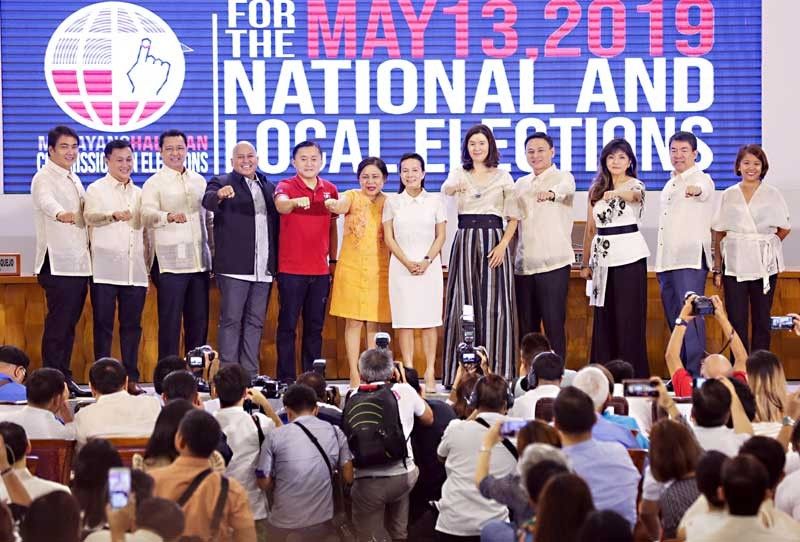 FIRST PERSON
-
Alex Magno
(The Philippine Star) - May 23, 2019 - 12:00am
This has to be said: the biggest winner of the recently concluded polls was President Rodrigo Roa Duterte.
The last elections produced pro-Duterte super majorities in both chambers of Congress. His supporters occupy the overwhelming majority of provincial and municipal executive posts. The only group that positioned itself as the "opposition" was totally obliterated.
Set this against what is more usual in our electoral history.
Midterm elections are usually occasions for voters to express their disenchantment for the sitting president. They usually provide platforms for the counter-elite to position for the next presidential elections. With the exception of elections held under the dictatorship, the opposition routinely trounced the administration candidates.
The last time the opposition was completely shut out during a midterm election was when Manuel Luis Quezon was president. That was 80 years ago.
Duterte might not have Quezon's sterling oratory or his sartorial finesse, but he matches his predecessor's overwhelming popularity. At the start of the campaign period, the opinion polls showed Duterte with 81 percent job approval ratings.
When the Liberal Party (disguised as the 'Otso Diretso' slate) cooperated with the pro-administration groups in the last election, a "referendum" on Duterte, they collaborated in producing the landslide that buried them. They should have paid closer attention to what the opinion polls were showing. Only political incompetence could explain why they did not.
Last week's vote did not just obliterate an opposition slate driven mainly by wishful thinking. It also denies the anti-Duterte forces a viable base of elected officials from which to launch a credible challenge in the next presidential contest.
That predicament is compounded by the fact that there is no strong opposition personality in the wings, someone who can assemble a coalition that might challenge Duterte's tremendous endorsement power in the next contest.
Mar Roxas is ready to be put out to pasture. Bam, the only surviving Aquino on the political stage, has been knocked off the board. Leni Robredo has been fixed in the public mind as the source of lame comments on everything. LP president Francis Pangilinan, who tried resigning his post the other day to no avail, is as anemic as the vegetables he used to cultivate.
There is no man on horseback here that might excite the electorate and compel a realignment of forces over the next three years.
In a word, there is no one in our political universe who might match the power of Duterte's endorsement in the next political round. The next president will be designated by the incumbent. If he can make Bong Go a ballot box powerhouse by his mere say-so, he can pull a rabbit out his hat and basically make him (or her) president.
It is not only his immense popularity that gives him awesome endorsement power. That power is magnified by the fact there is no alternative on the horizon.
What makes the latest electoral results even more remarkable is that Duterte exerted only minimal effort to matter. He attended a few rallies and then withdrew to watch movies at home.
He was as nonchalant in the last campaign as he was in 2015 when, as the most reluctant of candidates, he was dragged into the presidential contest by destiny.
Political capital
The numbers just tabulated tell us this: President Duterte has even more political capital today than when a landslide delivered him to the presidency three years ago.
What matters now is how he intends to use the political capital he has amassed.
Duterte was swept to power on the promise change is coming. Over the past three years, his administration did much to lay the groundwork for rapid economic expansion.
For the first time in our history, the administration introduced a comprehensive tax reform program without being compelled to do so by an economic crisis. Reforms in tax policy and administration created a reliable revenue flow to support an ambitious infrastructure program that will make our economy competitive. Spending on public works, in turn, provided a strong driver for domestic economic expansion.
To support the massive economic investments, we rebalanced our foreign policy. This opened the door for closer development cooperation with China and a greater flow of financing support from both Japan and South Korea.
All these produced dramatic results. We emerged as a leading growth economy. We will achieve "upper middle-income" status later this year, far ahead of the original schedule. We have received the highest credit risk rating ever for our fiscal management. Even as we escalated spending for economic investments, we continue to work down our debt as a percentage of GDP.
There is nothing particularly newfangled about our successful economic strategy. It is totally pragmatic. That is the feature that gives it its elegance and potency.
After 20 years, we have finally passed a law creating a national ID system. That will go a long way in modernizing transactions in our economy.
Almost certainly, President Duterte will put his immense political capital to bear on completing the comprehensive tax reform program and advancing economic liberalization policies. Overall, his administration will bring into place policies that will help create a strong state and an inclusive economy.
The ultimate objective of the economic strategy carried out by this administration is to reduce poverty incidence to only 14 percent by 2022. That is the best legacy this administration will leave behind.
All the reforms initiated so far, even those intended to restore our environment, were met with resistance from entrenched interests. With the stronger mandate provided by the last elections, the administration could move forward more decisively.