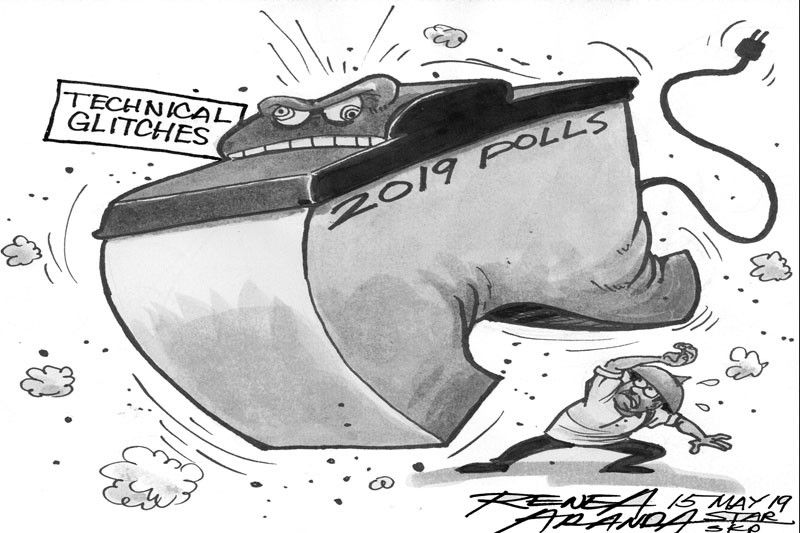 EDITORIAL - Problematic glitches
(The Philippine Star) - May 15, 2019 - 12:00am
The Commission on Elections, security officials and accredited citizens arm Parish Pastoral Council for Responsible Voting have a common assessment of the midterm elections: peaceful and generally "successful." The Comelec's vote count is also proceeding as quickly as expected of automated elections.
Although some candidates are not ready to concede defeat, many others, notably several members of the opposition, believed enough in the credibility of the polls and conceded yesterday.
If any doubts were raised over the poll results, these arose mainly from three factors. One is vote buying, which even the Philippine National Police described as rampant. Another is power outage, which was reported in several areas across the country. And the third is mechanical failure – the malfunctioning of up to 600 vote counting machines, and the seven-hour breakdown of the Comelec's transparency server.
The PNP and government prosecutors are pursuing cases against those apprehended for vote buying. The Comelec, meanwhile, has said it is looking into the malfunctioning of the vote counting machines and considering their replacement. Offhand, the Comelec attributed the glitches to the VCMs being overwhelmed by heavy use and possibly the weather, and the transparency server by the volume of those seeking access.
Population and voter numbers are a matter of public record, however, so the machines should have been prepped for the expected usage volume. In the case of the VCMs, which have been used in previous elections, more care was needed in ensuring that the machines would be up to the task.
The Comelec pointed out that the malfunctioning VCMs were quickly replaced, and that 400 to 600 out of 85,000 machines is still quite low for glitches. Still, 400 to 600 machines can process enough votes that can spell the difference between election victory and defeat. This is true especially in tight local races; in one case yesterday, a candidate won by a margin of just one vote. In the Senate race, 400 to 600 VCMs can process the number of votes needed to determine who will get the last three or four slots in the winning circle or Magic 12.
Even as the votes are still being counted, there are groups already preparing for the general elections in 2022. The number of malfunctioning VCMs in last Monday's vote was double that in the 2016 polls. The transparency server also did not malfunction in 2016. This early, the Comelec must work with experts to ensure that the cause of the mechanical glitches can be pinpointed so that they will not be repeated.