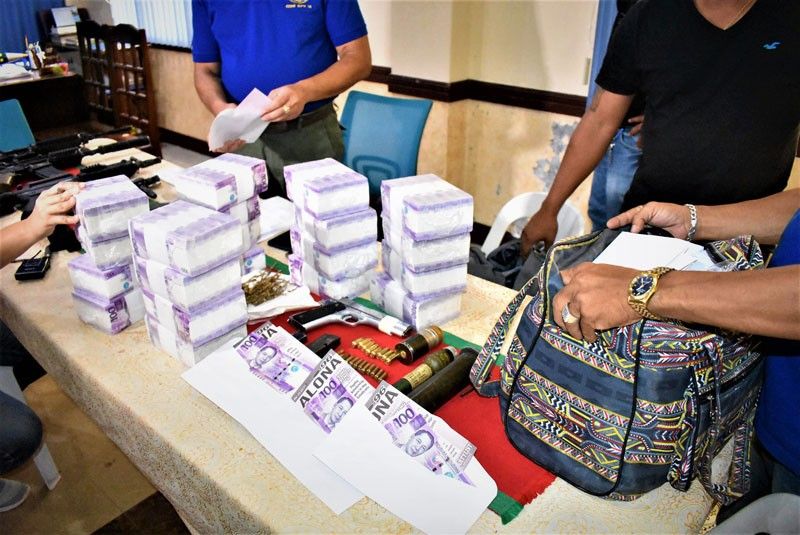 Election watchdog National Citizens' Movement for Free Elections (Namfrel) also confirmed reports of widespread vote buying.
File
SKETCHES
-
Ana Marie Pamintuan
(The Philippine Star) - May 13, 2019 - 12:00am
Candidates complied with the ban on rallies yesterday. As in the past, however, the eve of election day was also when the rule on designated poster areas was most brazenly violated.
Trees, lampposts, the walls of public schools and several other government buildings were covered with the posters of candidates seeking reelection as well as their opponents and party-list organizations. On side streets, campaign posters were strung across like fiesta bunting.
I can't think of any prominent candidate in the Senate race who didn't break the poster rule. They will probably claim that the posters were put up without their knowledge by their supporters.
It's a safe guess that the situation yesterday in Metro Manila was the same all over the country. People ignore the law because they know the Commission on Elections will not enforce it.
* * *
At least the Philippine National Police is actually cracking down on vote buyers. As of yesterday afternoon, the PNP had arrested 137 people on charges of buying and selling votes. I'm sure the 137 is just a drop in the bucket. But random arrests could discourage vote buying, although much of the money must have already been distributed as of yesterday.
What might put an end to vote buying for good is if people are actually prosecuted, convicted and sent to prison for buying and selling votes, with candidates found engaging in it permanently barred from holding public office after their stint in prison.
Realistically, however, if persons convicted of serious offenses such as plunder and statutory rape have been allowed to hold public office again, what hope is there that convicted vote buyers will be barred from occupying government posts?
Unless our numerous laws and election rules are enforced, aspirations for HOPE – honest, orderly and peaceful elections – will remain in the realm of hope and wishful thinking.
Many evils in government and our society spring from elections: influence peddling and corruption; the lack of accountability in using public funds for personal purposes; the mindset that people can get away with breaking the law.
* * *
Cynicism is a common sentiment during elections in our country. Without institutional reforms, with people bearing the same surnames running, how much change is possible in an exercise that is supposed to open opportunities for a better Philippines?
Dynasty building has reached shamelessly greedy proportions, with families wanting to control every available elective office not only in their home turfs, but even in the communities of their distant relatives and in-laws.
You know how lucrative politics can be when it is passed on from one generation to the next, and on to eternity if the dynasts can help it. And you know politics can't possibly be lucrative without corruption, considering the modest pay of public servants, even with perks thrown in. Politics is so lucrative people are willing to have their opponents murdered even in districts with fewer than 5,000 registered voters.
Among people who bother to get to know candidates better, I kept hearing sighs of frustration throughout the campaign, each time survey results on the Senate race came out.
I told some of them not to lose hope because the pollsters could be wrong. Those are not just words of comfort; the top pollsters have in fact erred in previous races for the Senate.
Reputable pollsters have been wrong even in the United States, notably in the battle between Donald Trump and Hillary Clinton. When Trump's victory became final, the pollsters must have been among those who cried out "OMG!" (So did Donald Trump's camp itself, if Michael Wolff's "Fire and Fury" is correct; the Trump campaign also believed in the surveys.)
So don't despair, folks; some of the lowlifes faring well in the surveys could still fall from the Magic 12.
Even if they don't, public discontent can still be measured by the margin of victory. So express yourself through your vote. For whatever it's worth, the voices of discontent must be heard.
* * *
We should have more trust in the discernment of our people. Popularity is no guarantee of election victory. Many show biz personalities have been defeated.
Even boxing icon Manny Pacquiao, at the height of his popularity, was rejected by his home city of General Santos for Darlene Antonino Custodio of the dominant Antonino clan. But in the next elections, the newbie candidate backed by Pacquiao's party defeated Custodio, ending the Antoninos' long hold on the city… or was it just a hiatus?
His wife's home province of Sarangani later sent Pacquiao to the House of Representatives, and of course the nation sent him to the Senate, but Custodio showed that he isn't unbeatable.
After Joseph Estrada won the presidency, there was a flood of show biz personalities, many of them fading stars, who tried to make a career shift to politics. Most of them were trounced.
Between a show biz fading star and a traditional politician perpetuating a dynasty, which is the lesser evil? Voters can wring their hands in despair.
The entry of entertainers was seen as a way of breaking up entrenched political dynasties. But the Pinoy voter can be unpredictable.
In the current race, for example, surveys indicate that even the star power of the Eat Bulaga team and his show biz-politics pedigree can't carry challenger Vico Sotto, young at 29 and charismatic as he is, past his opponent who is seeking reelection, Pasig Mayor Bobby Eusebio. Sotto's only hope is that the surveys are wrong.
There are candidates who seem unbeatable but might yet receive a rude awakening. This is up to us voters.
Make informed choices, vote, and guard the vote. With the right choices, the impact can be akin to a revolt.