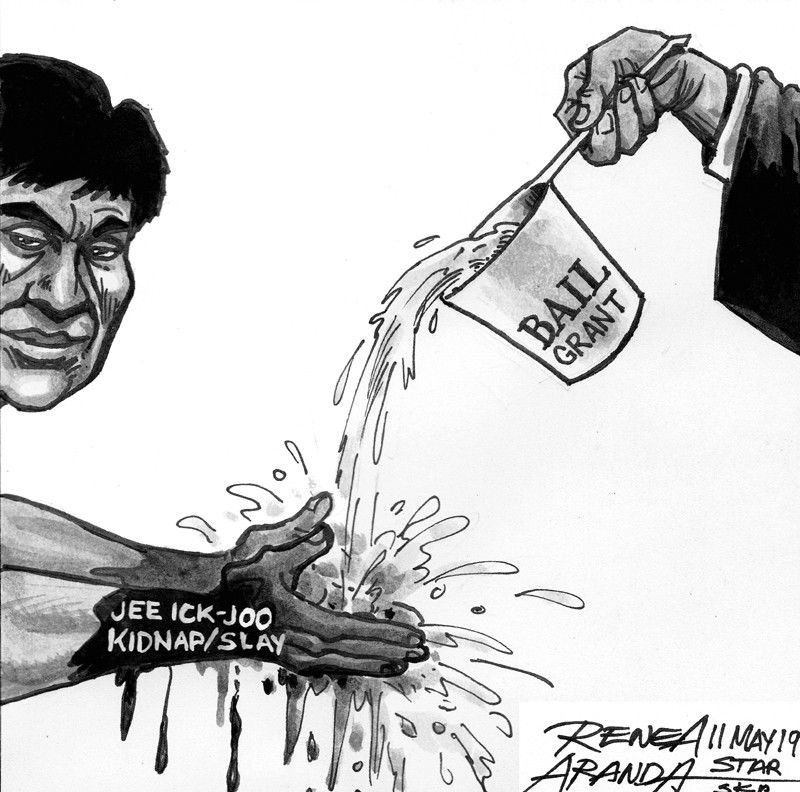 EDITORIAL - Bail for kidnapping with homicide
(The Philippine Star) - May 11, 2019 - 12:00am
The evidence against him is supposedly too weak to deny him bail, but he's a flight risk so a hold-departure order or HDO is issued to prevent him from leaving the country. Even police Lt. Col. Rafael Dumlao III must be confused, but surely ecstatic that he was allowed to post bail for what should be a non-bailable complex offense.
Dumlao was accused by President Duterte himself of being the mastermind in the kidnapping for ransom and gruesome execution of South Korean businessman Jee Ick-joo right inside the headquarters of the Philippine National Police at Camp Crame. Members of the PNP Anti-Illegal Drugs Group, at the time headed by Dumlao, are accused of kidnapping Jee at his home in Angeles City, Pampanga and demanding P8 million in ransom from his wife.
She paid P5 million but the cops strangled her husband to death anyway, inside his own car near the office of the anti-drug group at Camp Crame. Jee's remains were then allegedly cremated and flushed down the toilet of a funeral parlor.
This was way back in October 2016. The principal request of the dismayed South Korean government was for a speedy trial. Now, Judge Irin Zenaida Buan of the Angeles City Regional Trial Court Branch 56 has allowed the accused mastermind to post bail. At the same time, however, Buan found it necessary to prevent Dumlao from leaving the country.
Buan said the prosecution failed to establish that Dumlao conspired with his men in the kidnapping and execution of Jee. The judge had earlier denied bail for two other defendants, former policeman Ricky Sta. Isabel and Jerry Omlang, who worked as an errand boy at the National Bureau of Investigation's custodial center. A police corporal had testified that Dumlao had knowledge of the operation even if he did not directly participate in the crime.
President Duterte had met with Jee's widow and promised her justice. He had ordered Dumlao caught "dead or alive" and initially offered a bounty for his capture as the police officer went into hiding.
Only the resolution of the case will show if the bail for Dumlao was justified. This must be done with more speed than the usual pace of Philippine justice. South Korea is renowned for the efficiency and impartiality of its judicial system. Jee's case should not serve as yet another example of the weakness of the criminal justice system in the Philippines.