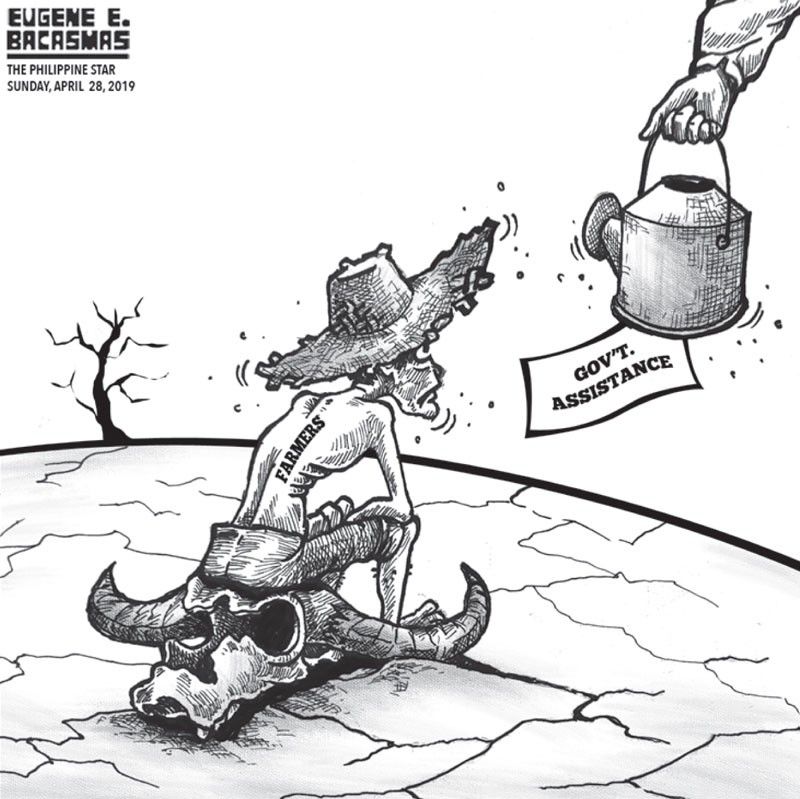 EDITORIAL - Another blow for farmers
(The Philippine Star) - April 28, 2019 - 12:00am
There is no respite from the summer heat, and more farmlands are expected to become parched as the weather bureau warned that drought would hit 16 provinces this May. The drought will also be felt in Metro Manila, where water woes recently led to an unprecedented water shortage in the east service sector.
The drought is caused by what weather experts have described as a "weak" El Niño, which they said could persist even during the traditional season for monsoons and typhoons.
Hardest hit are the farmers, with an estimated 277,890 hectares of agricultural lands damaged so far and over 247,600 farmers and fisherfolk affected across the country, according to the Department of Agriculture. Damage to rice in particular, which needs abundant irrigation, has been placed at P4.04 billion as of this week, with 191,761 metric tons and 144,202 hectares of rice lands affected.
Even before the drought, farmers were already expressing concern about their loss of income with the flood of imported rice following the approval of the rice tariffication program. The government has committed to provide advance support for the affected farmers, but so far, local producers have said that prices for their palay have plunged.
Now with the drought aggravating the losses, the government must consider the risks of seeing more people abandoning rice production. The low returns from rice farming have made agriculture unattractive for the youth. Even the Banaue Rice Terraces have been threatened for years with neglect due to the dwindling number of farmers.
The drought should lead to intensified efforts to assist farmers and modernize agricultural production. The Philippines is still largely agrarian. Any poverty alleviation campaign must give priority to creating meaningful and sustainable livelihoods in the agriculture sector. Technical and financial assistance, access to farm support services such as drying facilities, and infrastructure development must be accompanied by emergency measures during droughts. The government has downplayed the impact of the drought on total national agricultural production. The producers are saying otherwise.