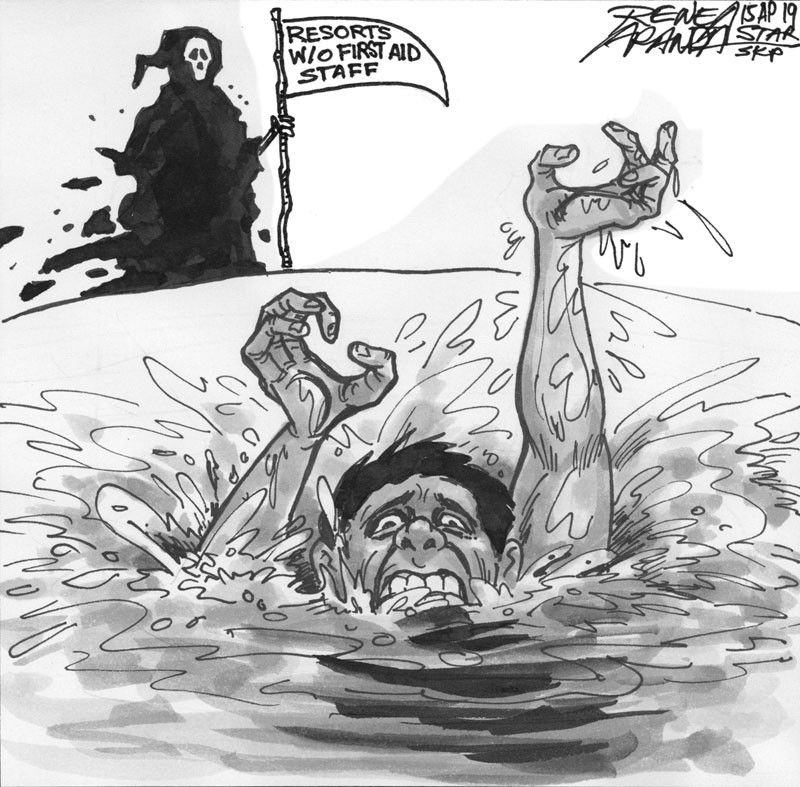 EDITORIAL - Emergency response
(The Philippine Star) - April 15, 2019 - 12:00am
As the travel season peaks this Holy Week, the Department of Tourism has warned that it would shut down resorts found to lack trained first aid responders. DOT officials stress that this is a requirement for hotel and resort accreditation so owners must comply.
The warning was issued amid reports that several resorts in two of the country's top tourist destinations, Boracay and Siargao Island in Surigao del Norte, lacked first aid teams. The two islands also reportedly lack health centers with adequate emergency facilities.
Provinces popular for tourism such as Bohol, Cebu and Palawan have such health centers, but many other areas across the country still lack the necessary facilities to deal with medical emergencies.
The problem in fact reflects the general inadequacy of health facilities nationwide. Where there are hospitals, the facilities may be wanting in terms of equipment and medical personnel. Only a handful of hospitals, most of which are in Metro Manila and a few highly urbanized cities such as Cebu, can boast of state-of-the-art medical equipment and trained personnel.
Across the country, there are numerous micro and small-scale resort operators who do not bother with hiring first-aid responders, or whose businesses are too small to warrant a full-time emergency medical team. Despite this lack, such resorts are popular especially during summer because of their low rates.
Bigger resort operators have no excuse to forgo hiring emergency medical teams. For micro entrepreneurs, the public health arms of local government units can provide common emergency response resources, such as equipment for reviving victims of heart attacks, and then organize the operators so they can pool resources for efficient access to the facilities. Skills training can also be provided so each resort, including mom-and-pop operations, can have personnel on call around the clock to provide basic emergency care before the health experts arrive.
Reviving drowning victims, for example, is a critical skill in this archipelago of 7,100 islands. The Philippine National Police reported that from April 5 to 10 alone, nine people have died from drowning in swimming pools and beaches in nine provinces.
Personal safety is one of the major considerations for travelers. Ensuring that safety should include the availability of basic emergency health services.