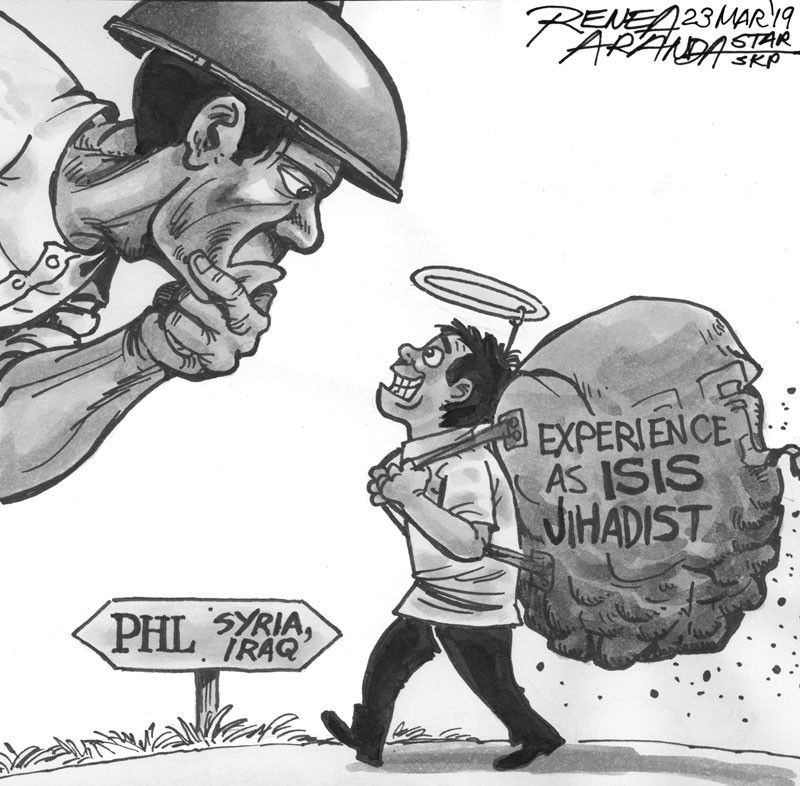 EDITORIAL - Foreign threats
(The Philippine Star) - March 23, 2019 - 12:00am
Whether there are 100 foreign jihadists who have entered the Philippines or only 10, the principal task of security forces is to stop extremist violence.
The Armed Forces of the Philippines, which is the lead agency in counterterrorism, has reported receiving information that jihadists fleeing Syria and Iraq are considering going to the Philippines.
If this happens, it won't be the first time that foreign terrorists will be operating in the Philippines. An Indonesian bomb maker of the Southeast Asian terror cell Jemaah Islamiyah was arrested and convicted for the near-simultaneous bomb attacks on a Light Rail Transit coach and several other targets in Metro Manila on Dec. 30, 2000. Foreigners were among the militants killed by government forces during the five-month siege of Marawi City by the Mautes and Abu Sayyaf in 2017.
The end of the Marawi siege did not completely neutralize the Maute threat, with a new "emir" of the Islamic State in Southeast Asia reportedly taking over the helm of IS. But the AFP pursuit has also been relentless. The military is verifying the death of the new emir, Abu Dar, in a recent encounter with government forces in Lanao del Sur.
Apart from killing terrorists, however, neutralizing this threat entails boosting efforts to prevent their entry into the country. There is an international security network under which states share information on terror suspects and their movements. There must be sufficient intel about the identities of many of the IS members fleeing their former strongholds in Syria and Iraq.
Immigration personnel must be alerted to bar these individuals from entering the country, although they will likely enter through the porous southern backdoor. Much will then depend on local authorities in Mindanao for ferreting out these militants and preventing them from sowing terror.
Local residents must also do their part in maintaining vigilance and protecting their own communities. The Marawi siege showed what extremist violence can do. The country has enough problems with homegrown terrorists. Foreigners must not be allowed to aggravate the threat.