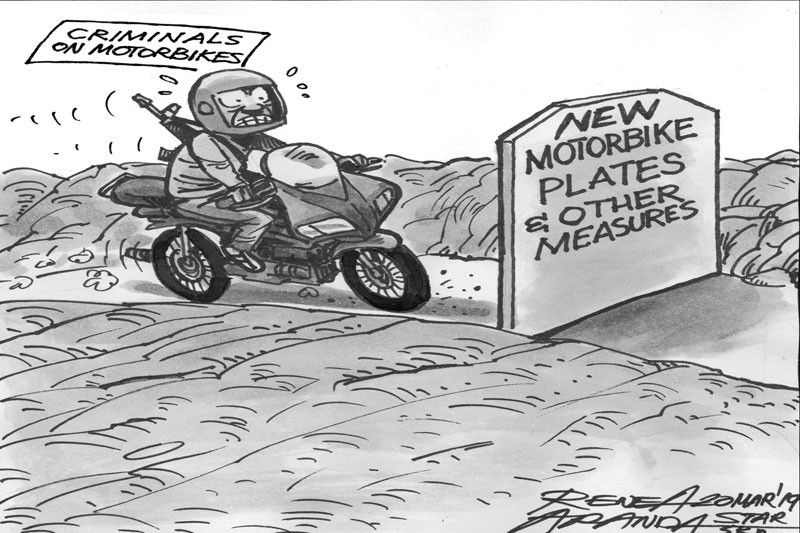 EDITORIAL - Perfect getaway vehicle
(The Philippine Star) - March 20, 2019 - 12:00am
License plates don't come free, and the proposed new plates for motorcycles are too big, according to critics of the new requirement.
In fact the cost and design of the new plates have yet to be approved together with the implementing rules and regulations for Republic Act 11235 or the Motorcycle Crime Prevention Act, which President Duterte signed into law on March 8.
What the new law stipulates is that the motorcycle plates must be color-coded by region and readable from a distance of 15 meters. Those are reasonable requirements, considering that so many armed assassinations and drive-by shootings have been carried out by men on motorcycles.
Even with closed-circuit television footage, the killers are rarely caught. How can they be, when their identities are concealed by heavily tinted helmets and jackets, and their motorcycle plates, aside from being small, are often smudged to make tracing impossible?
Mobile checkpoints have long been in operation, with motorcycles as specific targets of inspection. Yet with limited police personnel and the boom in motorcycle use, it's impossible for the checkpoints to cover all areas. Gunmen on motorcycles continue to be seen on CCTV footage, shooting politicians or their supporters as well as drug suspects, journalists, legal professionals and even priests.
Apart from making motorcycle license plates more readable, motorcycle helmets must be regulated so they won't become the ideal masks for criminals. Only motorcycle helmets with transparent visors should be allowed.
Recent CCTV footage showed motorcycle riders snatching a woman's cell phone. The public should welcome measures that would prevent the motorcycle from becoming the perfect getaway vehicle. Those expressing concern about the new law can work with authorities in drawing up the implementing rules for a measure that aims to improve public safety.