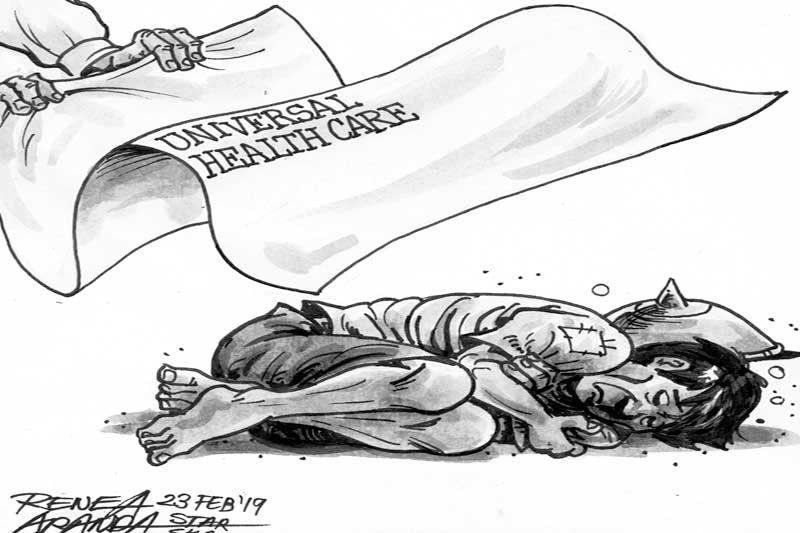 EDITORIAL - Universal health care
(The Philippine Star) - February 23, 2019 - 12:00am
It's a dream measure for the millions of Filipinos for whom decent health care is a luxury beyond their reach. President Duterte has signed the Universal Health Care Law, which expands the services covered by state health insurance and intends to include all Filipino citizens in the program.
As in many other laws in this country, of course, the devil will be in the implementation. The government has tried to temper high public expectations, pointing out that the wider benefits and coverage will not happen overnight.
While public impatience could set in, the measured rollout should help ensure the efficient implementation of the new law. The implementing rules and regulations are still being drawn up, with proponents acknowledging that with limited resources, the new law could fail to live up to expectations.
As things stand, the country's health care facilities, whether state-run or in the private sector, cannot meet the demand. Government hospitals in Metro Manila are overwhelmed, with patients spilling outside the emergency sections and new mothers sharing beds.
How to finance the expanded services promised under the new law is a big question. Apart from higher sin taxes, Republic Act 11223 intends to increase PhilHealth premiums. How much will still have to be worked out in the IRR, but certain workers' groups are already protesting against any hefty increase.
The extent of free or subsidized treatment also still has to be specified, especially for those involving costly medication or services such as sustained treatment for cancer and AIDS. Will mental health care and drug rehabilitation be covered?
There are also concerns about the capability of PhilHealth to process claims quickly and efficiently. PhilHealth officials have reassured the public that they are up to the job.
The private sector will also need a capacity boost to deliver on the promise of the new law. Quality health care facilities and equipment, however, require substantial investments that only a few hospital operators can afford.
There's also the question of human resources. Will there be enough medical professionals to handle universal health care coverage? The law aims to encourage students to take up health-related courses, with government scholars required to render three years of paid service in the country once they become professionally eligible.
Proponents acknowledge the challenges facing the implementation of the new law. Every effort is needed to ensure that this law delivers on its promise.