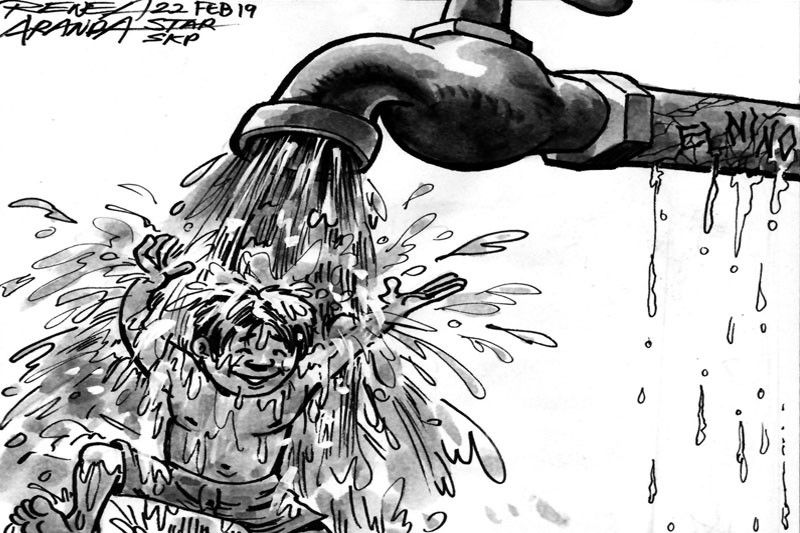 EDITORIAL - A hotter El Niño
(The Philippine Star) - February 22, 2019 - 12:00am
The country is used to El Niño, the weather phenomenon that brings drought in this part of the planet. Weather forecasters, however, warn that this year's El Niño is going to be even hotter and drier than usual, with temperatures in certain areas possibly rising above 40 degrees Celsius.
That's bad news for farmers, especially those producing rice, which needs ample irrigation. Rice farmers are already up in arms over the new law that allows unlimited amounts of rice to be imported and distributed nationwide.
Many of the imported types are cheaper than comparable local varieties. Although the rice tariffication law sets up a fund to enable local farmers to compete with foreign products, the impact of the flood of imports is expected to be felt immediately. Local rice producers fear the death of the industry.
A hotter-than-usual El Niño can only aggravate rice farmers' woes. The looming drought also threatens farms planted to other crops. With the warning issued by weather forecasters, the government must move quickly to mitigate the impact of El Niño. In areas where there is little hope of providing irrigation during a drought, farmers can be given livelihood alternatives and other forms of assistance.
El Niño is a regular bane to farmlands in this country, and its occurrences are likely to get worse with climate change. The government can consult experts to draw up long-term approaches for dealing with periodic drought and mitigating the impact of El Niño especially on the country's poorest. This gains more urgency as local rice farmers, who are heavily dependent on abundant irrigation, enter a more competitive environment.